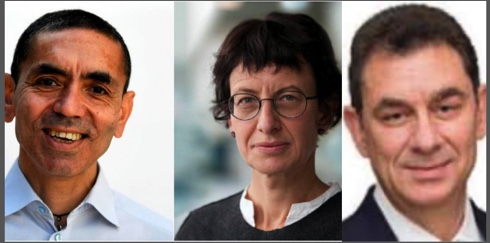 Pfizer and its German partner BioNTech announced that their experimental vaccine was more than 90% effective in preventing Covid-19. Behind the vaccine, however, is an underrated "dream team" of Turkish immigrant children.
The vaccine, co-developed by Pfizer and BioNTech, is 90% effective in preventing Covid-19 infections in ongoing phase 3 trials, the companies said.
The statement came Monday as the rapid rise in coronavirus cases around the world has forced millions of people to return to restrictions and bans, further damaging already devastated economies.
European stock markets and oil prices rose after the announcement.
The companies said they expect to deliver up to 50 million doses of vaccine worldwide by 2020 and up to 1.3 billion doses by 2021.
"The first set of results from the Phase 3 vaccine trial for Covid-19 provides the initial evidence of our vaccine's ability to prevent Covid-19", said Pfizer President and CEO Albert Bourla in a statement. Albert Bourla, 58, is a Greek from the Jewish community of Thessaloniki and studied at the Veterinary School of the Aristotle University of Thessaloniki.
"We are one step closer to providing people around the world with the discovery they need to help end this global health crisis," he said.
"We are reaching this critical milestone in the vaccine development program at a time when people need it most."
The positives about the BioNTech and Pfizer vaccine are, however, an incredible success for a married couple, behind the German biotechnology company, who have dedicated their lives to exploiting the cancer immune system.
From a humble background as the son of a Turkish immigrant working at a Ford plant in Cologne, BioNTech CEO Ugur Sahin, 55, is now one of the 100 richest Germans, along with his wife and fellow board member, 53 years old Oezlem Tuereci, according to Welt am Sonntag weekly.
The market value of BioNTech listed on the Nasdaq, set up by the couple, had reached USD 21 billion since closing on Friday, up from USD 4.6 billion a year ago, with the company playing a key role in mass immunization against coronavirus.
"Despite his achievements, he has never changed from being incredibly humble and cheerful," said Matthias Kromayer, a board member of venture capital firm MIG AG, whose funds have supported BioNTech since its founding in 2008.
He added that Sahin usually went to business meetings wearing jeans and carried his bicycle helmet and backpack with him.
Sahin worked hard on his childhood dream of studying medicine and becoming a doctor, while working at university hospitals in Cologne and the southwestern city of Homburg, where he met Tuereci during his early academic career.
Tuereci, the daughter of a Turkish doctor who had immigrated to Germany, told the media that even on their wedding day, they both spent time in the lab.
BioNTech's story took a turn for the better when Sahin in January found a scientific paper on a new coronavirus outbreak in the Chinese city of Wuhan and was struck by how small the step was from mRNA to anti-cancer drugs to mRNA-based viral vaccines.
BioNTech quickly commissioned about 500 employees to work on various possible compounds, coming on top drug giant Pfizer and Chinese pharmacist Fosun in March.
Sahin told Reuters on Monday that reading was tantamount to an "excellent success rate", but that he did not know beforehand how difficult the task would be./ibna