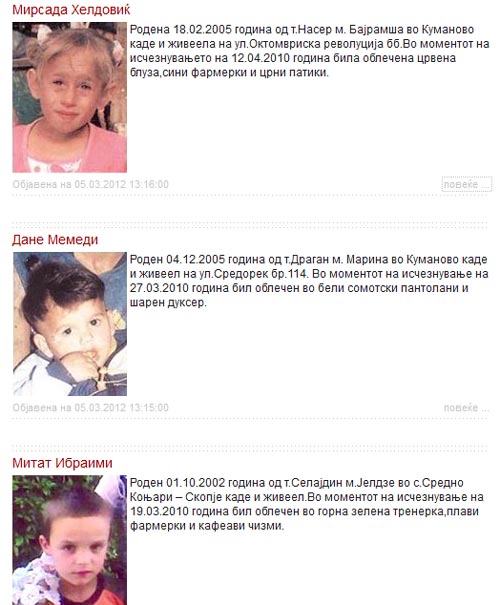 Skopje, May 25, 2013
The Ministry of Interior has declared that during the past three years, it has searched for three missing children, who disappeared without leaving any trace.
This declaration was released today by the Ministry of Interior on the World Day of Missing Children.
Two boys, one born in 2005 and one in 2002 along with a girl born in 2005 have disappeared and search continues to find them.
The missing children are Mitat Ibrahimi, a child of Albanian ethnicity from Korjarja, Skopje, who went missing one March 19, 2010, Mirsada Heldovid and Dane Mehmedi, two children of the Roma community from Kumanovo.
According to the Ministry of Interior, the children have disappeared within a period of three weeks. Searches continue even abroad and the community has been urged to offer information about the missing children. The Ministry of Interior published the names of these three children today on the World Day of Missing Children. According to the International Center for Missing Children, at least 8 million children disappear every year in the world. /ibna/