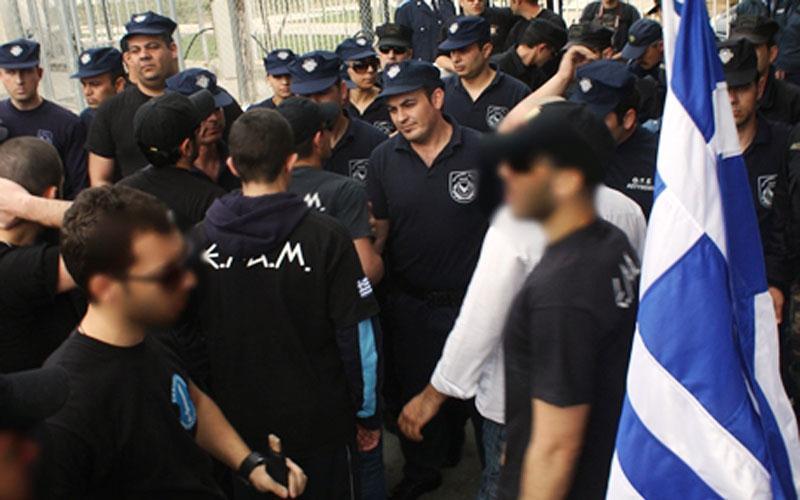 By Kyriacos Kyriacou-Nicosia
Chief of Police Michalis Papageorgiou was dismissed from his position on Thursday by President Nicos Anastasiades, a day after far right extremists members of ELAM party were involved in serious incidents at an event in Limassol, which was addressed by former Turkish Cypriot leader Mehmet Ali Talat. party ELAM is often accused for its racist views and strong relations with right wing extremist's party "Chrysi Avgi" (Golden Dawn) in Greece.
Around 100 member of ELAM disrupted Wednesday's event, shouted slogans and held Greek flags. The managed to enter the lobby and throw a flare inside the hall near the American Ambassador's feet. There were also clashes with police forces with four people being arrested.
Police chief Michalis Papageorgiou said on Thursday that he only received a tip about possible ELAM presence at an event former Turkish Cypriot leader Mehmet Ali Talat would attend when he was asleep so he wasn't informed in time. Interviewed for Sigma TV, the police chief said that on the previous night he was inspecting police stations so he was tired in the morning and went to bed.
 "Disgraceful incidents"
After Papageorgiou's dismissal the President appointed Senior Police Officer Zacharias Chrysostomou, Director of Cyprus Police Academy, as the new Chief of the Police as of May 28, 2014.
In a written statement, read out by Government Spokesman Christos Stylianides, the Cypriot President addresses himself to all people of Cyprus but in particular "to our Turkish Cypriot compatriots", stressing that the main concern of the government and all political forces is to achieve conditions of peaceful coexistence between Greek Cypriots and Turkish Cypriots in the context of a solution, which will fully secure human rights and the democratic function of a fully fledged member state of the European Union."
In his written statement, President Anastasiades says he was appalled by the "disgraceful and unacceptable incidents during yesterday's event". He stressed that the state will not accept any "fascist behavior, from anyone".
Limited performance
In his letter to Papageorgiou, President Anastasiades says that he took the decision to dismiss him from his post after Wednesday night's events that took place in Limassol and a series of other actions and omissions prior to this event. He adds that he also took into consideration Papageorgiou's "lack of respect of decisions of the Republic's institutions, including Court decisions and recommendations by the Ombudswoman" and the limited performance of his duties, relating to the fight against serious crime and the protection of citizens.
All political parties and various organizations vehemently condemned Wednesday night's incidents, saying they are a disgrace to democracy and pointing out that everybody should be able to express their views in a civilized manner, within the law.
Papageorgiou fires against Minister
Later during the day, in a press conference over his departure, the Chief of Police Michalis Papageorgiou accused the President and the Minister of Justice Ionas Nicolaou, for going on war against him, since the Presidential elections. He rejected everything included in the President's statement and expressed his disappointment for not being allowed to defend himself after the ELAM incident. He added that there was a coordinated effort to remove him from his position a long time ago.
He continued accusing the Minister of Justice for spying on him and interfering with his work.
Ionas: Old fashion tactics
Responding to the Papageorgiou's accusations, Minister of Justice Ionas Nicolaou said that Papageorgiou's tactics are old fashioned and that his claims are untrue. "It must not go unnoticed the fact that in his press conference, the chief did not speak about the main reason for his dismissal, which was the incidences in Limassol". The first question to be unanswered is why mr. Papageorgiou did not publish this unsubstantiated accusation sooner, and decide to do it after his dismissal", stressed the Minister of Justice.