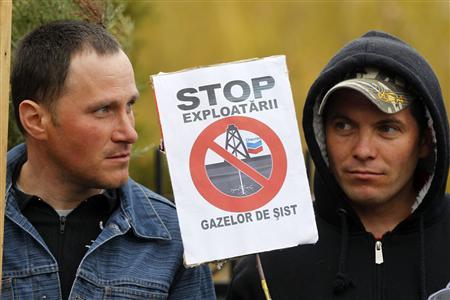 By Daniel Stroe – Bucharest
The US company Chevron has suspended its scheduled shale gas exploration activities in the Vaslui County after fours days running of protests from the inhabitants of a village where the prospecting works should take place and which have taken degenerated into violence last night.
"Our priority is to deploy these activities in a responsible and safe manner towards the environment, in compliance with the environment agreements under which we operate" Chevron said in a statement. The document doesn't mention for how long works will be suspended.
Chevron had earlier removed all the drilling equipment from the village of Pungesti after villagers clashed with the gendarmes Wednesday night to prevent the workers from reaching the exploration perimeter outside the village.
In the meantime, local counselors voted in unanimity in favor of banning the shale gas exploration and exploitation within the perimeter of the village. A second proposal to dismiss the mayor, member of the ruling social-democrat party, did not pass.
Amid the fierce opposition of the inhabitants, the counselors also decided to call a referendum on the shale gas exploration on 24 November. It is unlikely a negative vote will reverse a court decision last month which upheld the exploration permits for Chevron, but the referendum will probably give a moral boost to the protesters.
The protests in Pungesti have been going on for four days now. In Bucharest, thousands marched in support for the villagers who formed a human chain in front of the gendarmes and slept in the cold over the night. Authorities increased the security apparatus in the area, but have not intervened yet, despite scuffles with the villagers.
The Romanian media speculated the protests are secretively supported by Russia which is interested in keeping Romania dependent on its gas exports, but no solid evidence has been given in this respect. But the shale has production has been plainly evoked as the only means Romania ensures its energy independence and has been labeled as a strategic project. So far, politicians shrank from directly involving in the debate for fear of electoral repercussions and analysts blamed the protests on a poor information campaign on the part of the government which has so far limited to saying explorations will not harm the environment.