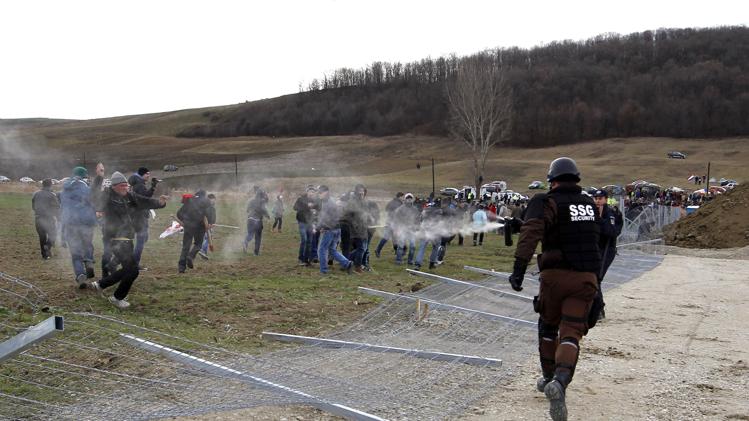 By Daniel Stroe – Bucharest
The American company Chevron had on Saturday to suspend shale gas exploration works for the second time since it got the license early October after villagers near the exploration perimeter broke the gendarmes' cordon and destroyed fences, forcing authorities to take special measures to restore calm.
Chevron resumed the exploration works yesterday morning but only after police and gendarmes secured the area and put every household in the village of Pungesti, in eastern Romania, under strict surveillance. "There's a gendarme in front of every house. We cannot leave it unless we explain to him where we go and for what purpose" a villager complained yesterday. Some said they were even body-searched. At the same time, all the vehicles going to Pungesti are stopped by police and drivers briefly interrogated about their scopes.
On Saturday, 400 villagers managed to break the gendarmes' cordon and stormed the fences of the perimeter where Chevron is drilling to assess the volume of shale gas in the underground. Some of the protesters were detained by police later and charged with outrage and public disturbance.
Following Saturday's incidents, the Romanian Gendarmerie declared the village of Pungesti a special area of public safety which explains all the controls inside and outside the village. The measure is meant to counter the violent manifestations, the gendarmes also said.
About 100 people gathered in downtown Bucharest last night to express solidarity with the villagers in Pungesti. Three demonstrators were briefly detained after they tried to break the gendarmes' cordon.
The protests in Pungesti started on 14 October and amid wide media coverage Chevron decided to suspends the exploration works near the village. The company had received a permit on 3 October to install the first exploration well after it had submitted all the necessary documentation. Chevron also received exploration permits in three other areas in the Constanta County, in SE Romania.
Locals fear the shale gas exploration and then production will defile their land and water resources and blame authorities they have not consulted them. In the rest of the country, almost two thirds of Romanians agree with the exploitation of the country's natural resources, but only if the environmental conditions are strictly met, shows a recent poll. Half of the responders said they preferred Romanian companies to extract the resources rather than foreign ones. Almost three quarters said they agreed with the natural resources being exploited f this leads to the decrease of the gas price.