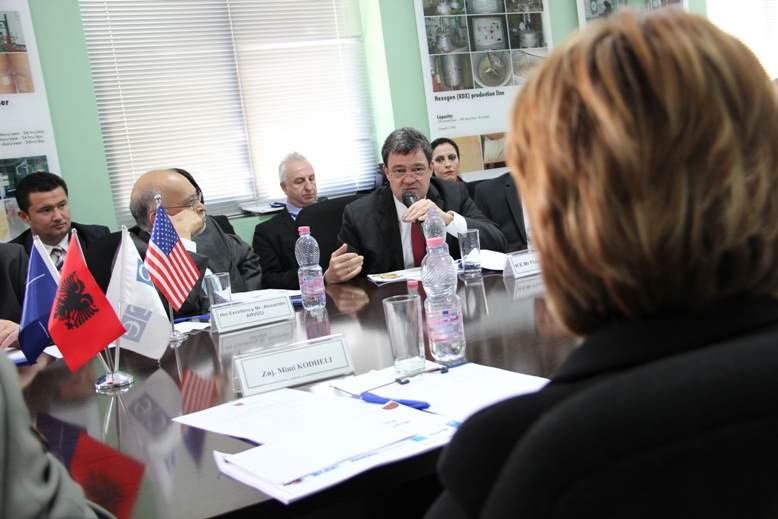 Tirana, February 7, 2014/ Balkan Independent News Agency
The existence of dangerous chemicals, old ammunition and guns consists on constant threat for the Albanian population. This was declared by OSCE ambassador Rauning during a meeting (photo) held on Friday with donors, organized by the Ministry of Defense in the plant of Mjekes in Elbasan.
The ambassador spoke of the assistance of OSCE in the process of demilitarization throughout the years. He said that a significant progress has been achieved in partnership with the OSCE and other international actors in making Albania a safer place to live.
Undergoing process
OSCE presence in Albania is engaged along with the Albanian government for several years as an active partner in the process of demilitarization.
They have implemented several projects, including the destruction of many tons of excess conventional ammunition, rocket fuel (mélange) and other dangerous chemicals.
The destruction of excess conventional ammunition continues even today with logistics offered by the Presence with the funding of Denmark and Germany.
The last project is that of 2013, the safe repackaging of 100 tons of dangerous chemicals with the financial support of Czech Republic and Turkey.
Rauning said that there must be a crucial funding in order to successfully finalize the second stage of this project, the removal of chemicals from the Albanian territory and their safe destruction abroad. The implementation of this project is the main priority for 2014.
Other projects are demanded
Albanian Minister of Defense demands from the OSCE to launch a fourth project for the removal and destruction of a wide variety of dangerous materials.
Mr. Rauning said that this demand is being deliberated and added that: "Along with the ministry and potential donors, we will look into opportunities for further OSCE assistance in this domain".
Small weapons, a big challenge
The dismantlement of small and light weapons in Albania is another challenge and the same goes for the demilitarization of other former military hot points. To give these areas back to the people is one thing, but to give these areas back to the environment is an entirely different thing.
OSCE presence in Albania says that it's committed to support demilitarizing investments. Ambassador Rauning claims that: "Demilitarization process is vital for peace and security in Albania and the region. We support the government projects for a safer country. We want to work together with our international partners and members of the Diplomatic Corpus, to discuss solutions and potential ways to help Albania in its efforts to be a safer country". /ibna/