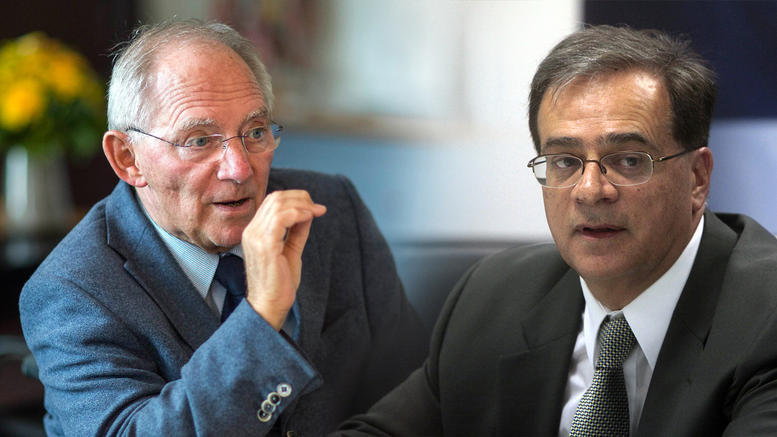 By Spiros Sideris – Athens
Minister of Finance Gikas Hardouvelis met with his German counterpart Wolfgang Schäuble in Berlin concerning the Memorandum and the next day, with the settling of the debt and credit line requested by Athens. The meeting took place on the sidelines of the World Congress OECD.
Circles of the Greek FinMin reported that they discussed the next day, but there was no talk of a third package. They added that there will be a new relationship after January 1, but the final form has not been decided.
The same sources pointed out that "we are discussing the new relationship" and that we will find a mutually acceptable solution. They added that if the markets see that there is a "safety net", then the country's image will improve and the spreads and interest rates will drop. They also said that the troika has not raised an issue of a reduction in pensions and that the insurance system is sustainable.
In his statements to the Greek Public Television, immediately after meeting, the Greek FinMin said that there are talks, in order to find a mutually acceptable solution for the next day, noting that Germany would help. However, it was noted that it was a meeting between the two countries and that the troika is not mentioned.
The Greek reporter asked if the FinMin saw some receptivity to the fact that "from the German Ministry of Finance they referred every greek request to the troika", in view of the appointment. Hardouvelis replied that "the troika is not mentioned at all. It was a conversation between two states. Germany has an opinion, has helped Greece again. Now we are talking to find a mutually acceptable solution for the next day".
To a question whether Germany will help to the steps that must be taken for the next day, he replied: "Of course. Germany and Mr. Schaeuble particular, is Europeanist. He wants a strong euro, a strong eurozone. And he stated in our meeting that to have a strong eurozone, we must have a strong Greece".
"We had a very interesting conversation, we discussed a lot of issues. The progress of reforms in Greece, how things are going, the state of the greek economy and also the fact that at the end of the year the program ends and we must enter into a new relationship from January 1. This is something the german side also understands; that we must soon find a solution to delineate this relationship", stated the Greek FinMin.