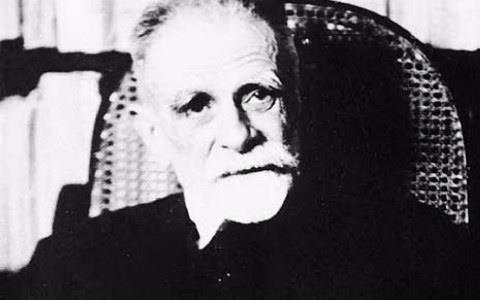 By Christos T. Panagopoulos
"The Paper Smearer", a book about the youth of famous Greek writer and poet, Kostis Palamas, will be presented on Wednesday July 31st at 21:00 in the Primary School of Askyfou, near the city of Chania in Crete.
The event is organized by the Regional Unit of Chania in cooperation with the Municipality of Sfakia. Author, Marilena Vlahakis, will make a theatrical presentation of her book, which gives a thorough insight about the early years of one of the most important Spiritual Fathers of Greece.
Admission for the public will be free.
Kostis Palamas (13 January 1859 – 27 February 1943) was a Greek poet who wrote the words to the Olympic Hymn. He was a central figure of the Greek literary generation of the 1880s and one of the cofounders of the so-called New Athenian School (or Palamian School, or Second Athenian School) along with Georgios Drosinis, Nikos Kampas, Ioanis Polemis.
He has been informally called the "national" poet of Greece and was closely associated with the struggle to rid Modern Greece of the "purist" language and with political liberalism. He dominated literary life for 30 or more years and greatly influenced the entire political-intellectual climate of his time. Romain Rolland considered him the greatest poet of Europe and he was twice nominated for the Nobel Prize for Literature but never received it.
His most important poem "The Twelve Lays of the Gypsy" (1907), is a poetical and philosophical journey. His "Gypsy" is a free-thinking, intellectual rebel, a Greek Gypsy in a post-classical, post-Byzantine Greek world, an explorer of work, love, art, country, history, religion and science, keenly aware of his roots and of the contradictions between his classical and Christian heritages.
Source: Neatv.gr