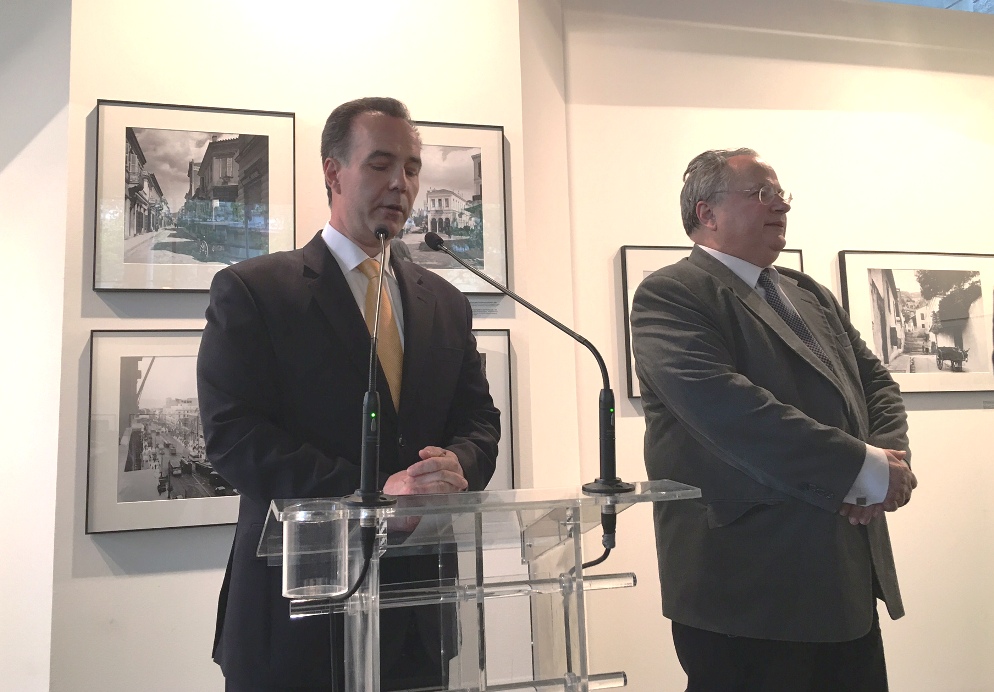 Athens, April 15, 2016/Independent Balkan News Agency
By Spiros Sideris
After three and a half years of a fruitful cooperation next four ministers – Dimitris Avramopoulos, Evangelos Venizelos, Nickos Kotzias and Petros Molyviatis – the official spokesman of the Foreign Ministry Konstantinos Koutras gave onThursday the final official farewell in Athens at a reception at the Foreign ministry. Konstantinos Koutras assumes the post of Consul General of Greece in New York. The position of spokesman at the Foreign Ministry takes the diplomat Stratos Efthymiou.
"When a chief loses from his environment a good, distinguished associate and a great professional, he does so with great effort", Kotzias said in his address at the event, stressing that a minister "must always find a balance between the loss of a great professional, with opinion that he support and fights with decency, like Konstantinos Koutras, and the selfish natural tendency to keep him close to him. Because it would be unfair, he said, to leave those with whom you can not collaborate or do not perform substantial work or as much work as he would like, explaining that "the solution to this paradox is to keep him for a reasonable time – Koutras was to change post last year – and then let him fly with his wings because the good partners we have will always be good wherever they go".
"I'm sure", said the Foreign Minister "that in New York we will have a flag up in our communications, the promotion of our country, a great ambassador who will help the Greeks abroad, the Diaspora", wishing Mr. Koutras to have nice journeys and thanking him "for the cooperation and success in responding to the need of the ministry and of our policy".
Mr. Koutras on his part thanked N. Kotzias both for the confidence he showed to him all this time, as it was "an important collaboration that taught me knowledge that was really in unknown areas" and for the award of the position of the consul in New York.
"The update service's standards are very high", Mr. Koutras said and added: "I received it very high and we raised it even higher. The presence of the national Ministry of Foreign Affairs in the field of social networks has really taken off, and with the minister's instructions and previous ministers we succeeded many things".
Finally, the Foreign Ministry spokesman addressed a thanks to the rest of the political leadership of the ministry, colleagues of diplomats without of course forgetting all former Foreign ministers, their colleagues in the news service, his second family as he said, and diplomatic editors.