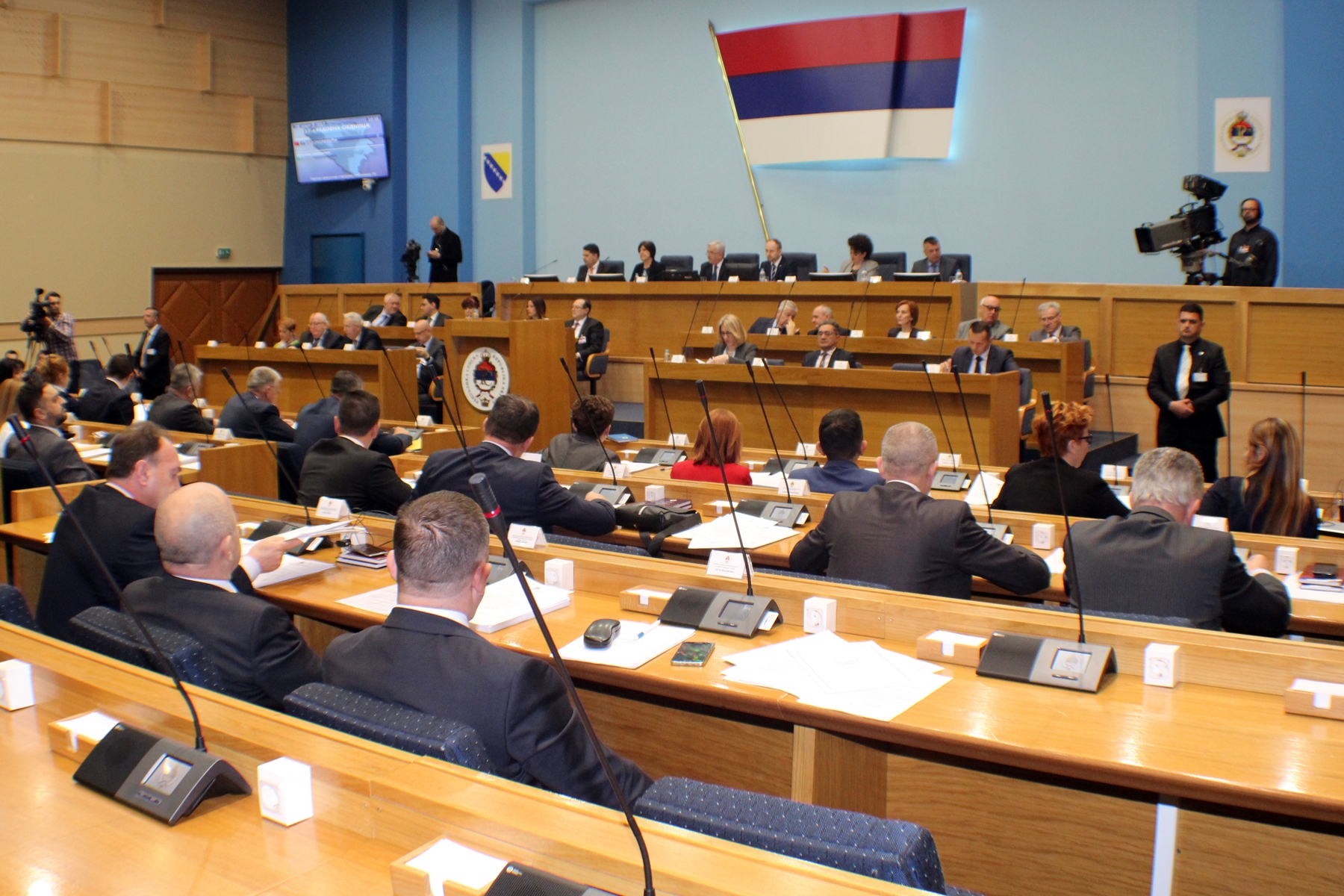 Less than two weeks after he was impeached as president of Napredna Srpska party, RS National Assembly MP Adam Sukalo decided to continue his parliamentary work in the Party of Democratic Progress RS caucus.
Prior to the beginning of the RSNA session on Tuesday, Sukalo told reporters that he had already informed the Secretary General of the RSNA, Marko Acic, recarding this change.
"There is no consensus and the will about the existence of the parliamentary group of Napredna Srpska, whose MP Goran Djordjic, according to my information, in the next period will begin to act on the caucus of Serb Democratic Party (SDS)", Sukalo said.
He added that his cooperation with PDP will last until 2018, but he still is uncertain as to whether he will become a member of this party.
Head of the Caucus of PDP, Miroslav Brckalo, told reporters that he hoped that Sukalo arrival in their caucus will mean a beginning of a successful cooperation, which in the previous period was good.
"I'm glad Sukalo will act in our caucus, because it is one of the most active deputies in the RSNA. All this is part of the consolidation of the opposition in RS", said Brckalo at a press conference in Banja Luka.
It was clear that something is not good in the Napredna Srpska party, and the problems culminated with Sukalo's dismissal from the position of president. The position of the head of the party was occupied by Goran Djordjic, who described this change as something that "may or may not be significant." About two weeks ago, Djordjic announced that Sukalo remains member of the party caucus in RSNA and that both of them will continue opposition activities. Just fifteen days after that this statement the caucus fell apart.
However, this is not the only change in the political scene of RS. A few days ago, presidents of PDP and People's Democratic Movement (NDP), Branislav Borenovic and Dragan Cavic, along with PDP honorable president, Mladen Ivanic, met in Banja Luka to discuss the future joint actions in RS opposition. After the meeting, Borenovic and Cavic said that there are many reasons which clearly show that it is necessary to act more active and organized against the ruling parties and their government. They called all other parties which agree with their stance, to show to the citizens that in RS exists "a serious political alternative to anti-people authorities".
One of the results of the meeting is the agreement to candidate Mladen Ivanic for the RS president on the elections next year.
It is interesting that PDP is gathering new caucus members and agree the cooperation with other parties but there is no similar activities with Serb Democratic Party as the biggest opposition party in RS. Until the last local elections, in October last year, PDP and SDS cooperation was strong and indisputable. Moreover, they acted jointly as part of the ruling coalition on state level. It appears that in the future these two parties will cooperate on a different basis.
"We want to make PDP strong and recognizable political factor on all levels. That is a reason we begun to gather parties and individuals which we consider can contribute to common goals", PDP president, Branislav Borenovic, told IBNA.
He added that they will cooperate with SDS and that this cooperation in the future will be stronger and more constructive.
In addition to changes on political scene in RS, ruling coalition MP, Vojin Mitrovic, left the caucus of Alliance of Independent Social Democrats (SNSD) and in the future will act as independent MP. Mitrovic was elected as the member of opposition NDP, but in just a few days after he took the mandate, Mitrovic left this party and joined SNSD. After the taped record of RS PM, Zeljka Cvijanovic, in which she explains that there are two MPs which were "purchased", reach the public, this case triggered one of biggest affairs which is still unsolved.
The question is: will Mitrovic's departure encourage other MPs to do the same thing? If the answer is "yes", the RS political scene will see one of the biggest changes in its history./IBNA
Photo: Mladen Dragojlovic