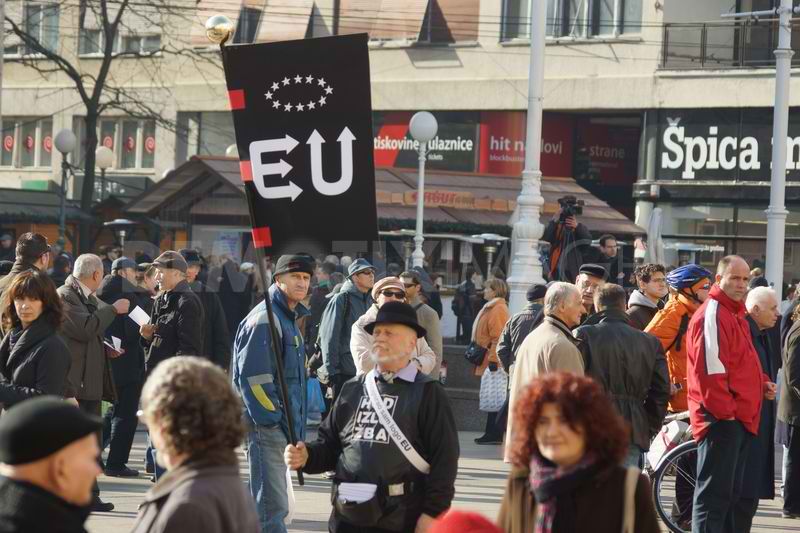 By Natasa Radic – Zagreb
Twenty thousand people gathered at noon on the main square in Croatian capital Zagreb at a protest rally organized by five trade unions called "Change the direction, commemorating the 1st of May – International Labour Day." The unions have sent the clear message to the Government – to urgently change economic policy, or to step down from power. The protests have been peaceful and without any incidents.
For some time the trade unions warn of ongoing violations of workers' rights, and a growing number of impoverished people, who live on the edge of poverty line. Recent reduction of wages of employees in the public sector for three percent has fueled the flames of a growing dissatisfaction of union leaders, but also a large number of employees in the public administration.
This is why the protesters in Zagreb have accused the socialdemocrat leader and the Prime Minister Zoran Milanovic of betraying the workers, the welfare state, the voters, but also ideas of social democracy. They claim that he only serves the interests of big businesses and the banks. Leader of the Independent Croatian Unions Kresimir Sever warned that the country is sinking into resignation and hopelessness because of government policy.
– We have not gathered here because the political opposition gathered us, but misery, poverty and hopelessness in which we were pushed by Prime Minister Zoran Milanovic and his Government – Sever said.
-I came here because I am hopeless. I do not see any way forward and I think that together we can send a strong message to the Government that we want things to change – said Ivan Marinovic, who is currently unemployed and hopes to find the work in the EU after Croatia becomes a full member in July 2013.
To support the protest in Zagreb, people gathered in Istrian city of Pula with the sounds of the International and the Bandiera Rossa. The union representatives warned that the current economic policy is resulting in more and more people in Croatia sinking into poverty.
The unions are demanding a change of government economic policy and demand to abandon the austerity policy, instead stimulating opening of the new jobs, preservation of the welfare state, taxation of banks and financial industry and punishing employers for nonpayment of wages.
At the SDP (socialdemocrat party) rally in the occasion of the International Labor Day in Ronjgi near Rijeka, Finance Minister Slavko Linic said that he is not afraid of union protest, nor he gives them any special importance.