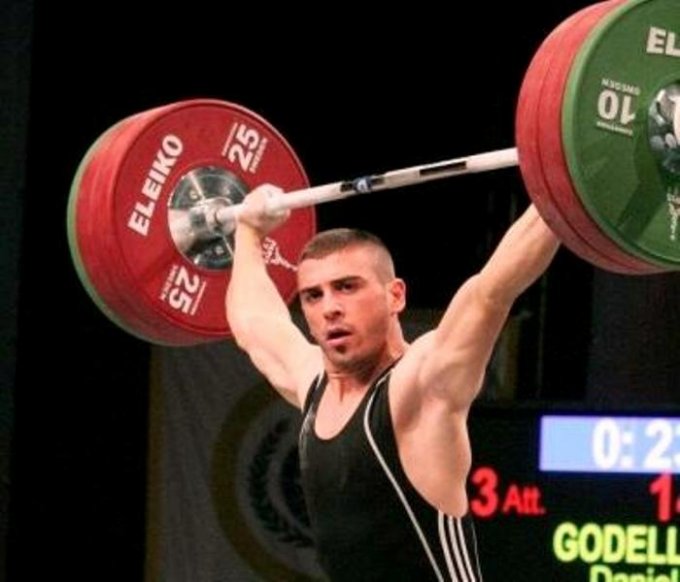 Tirana, December 11, 2014/Independent Balkan News Agency
A few days before celebrations started in Albania on the national day, good news came that Albanian weightlifting champions had broken a record, being announced world champions in their respective weights.
Romela Begaj and then Daniel Godelli (photo), were announced champions, by receiving several medals in the World Championship in Kazhakstan.
And along with them, the runner up champion of Europe for under 23, Hysen Pulaku.
All of this good news made Albanians happy, because they have rarely remained happy in other sports, especially in football. Therefore, the golden medals which were received last month and several others in the recent years by Albanian weightlifters, have turned them into national heroes.
So big was the excitement that in on the National Day, Begaj and Godelli led the official ceremony along with PM Edi Rama and speaker of parliament.
But now, this enthusiasm is quickly dropping.
A few days ago, anti-doping tests proved that champion Romela Begaj had used forbidden substances.
Albanian weightlifter Romela Begaj results positive in the anti-doping test
World Weightlifting Federation suspended her indefinitely from all activities.
Today, the other champion, Daniel Godelli, also resulted positive in his anti-doping test. But the same also happened to the runner up champion of Europe, Hysen Pulaku, thus giving another blow to Albanian weightlifting.
World Agency of Anti-Doping sent the results of the analyses to the Albanian Federation of Weightlifting.
As it happened in the case of Romela Begaj, the other champion too, Daniel Godelli declared today that he will demand for the tests to be repeated.
Albanian Weightlifting Federation reacted about these developments. "We express our big concern in relation to the involvement of the other two weightlifters of the National Albanian Weightlifting Team, who participated in the World Weightlifting Championships in Almaty, Kazhakstan, in the list of those who are suspected of doping, after Romela Begaj. We express our support for every weightlifter of the national team for their work and commitment shown throughout the years by giving Albania many medals". The Federation said that it expresses its engagement that "once the final results of the B Test for the suspected sportsmen come out, it will enable transparency, and an inquiry, by starting with the Albanian Weightlifting Federation Itself". /ibna/