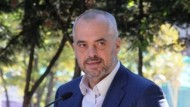 London, May 14, 2013
The chairman of the Socialist Party, Edi Rama who is holding a visit in Great Britain, has been received today by the labor former Prime Minister of this country, Tony Blair.
"It was an excellent meeting with Tony Blair! We agreed that after June 23, he and his team will work with us for good government. Fantastic!", writes Rama on his Twitter profile.
During this meeting, Rama and Blair discussed about the electoral process and the electoral campaign, which were the essence of the visit in Britain.
Meanwhile, during the afternoon, the head of the SP will hold a meeting with the Eurosocialist group in the European Parliament to discuss over the June 23 elections. /ibna/