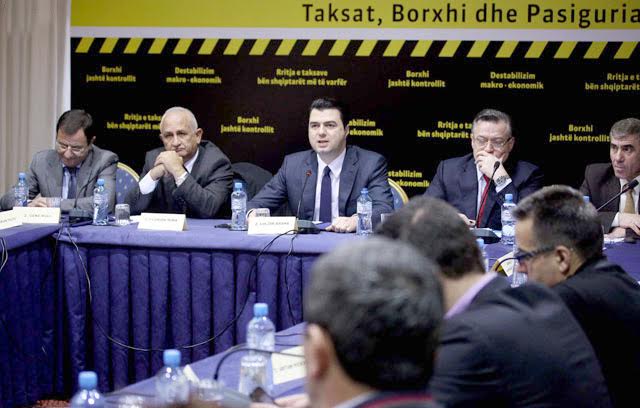 Tirana, 29 December 2015/Independent Balkan News Agency
Criminal charges have been pressed by the Minister of Energy and Industry against the three most important ministers of the former cabinet of Albanian PM Sali Berisha, for a financial damage of 414 million euros.
The former ministers in questions are Ridvan Bode, Minister of Finance, Genc Ruli, Minister of Economy and Florion Mima, also a former Minister of Economy. The charges were filed following an audit on the documents relating to the privatization of OSHEE, which revealed that CEZ company was favored. According to the audit, the damage that was caused to the state budget amounts to 57,931,041,292 lek or 414 million euros.
The government's charges include violations in the privatization of OSHEE, favoring the Czech company CEZ even during its activity and failing to take adequate measures to protect the interests of the Albanian state, following the lifting of the license for CEZ Distribution.
Along with the three ministers, the government has also pressed charges against former ministers Enno Bozdo and Neritan Alibali, former advisor to the prime minister Suzana Guxholli and former general director of commercial services at the Ministry of Economy, Mimoza Vokshi and other officials.
The leader of the Democratic Party, Lulzim Basha sees these charges against 3 former ministers of Berisha's government as an attempt by the government to conceal "the big scandal". Basha says that the government had the possibility for a fair and independent investigation on this issue from the beginning until the end, but it didn't allow it "because the truth would reveal the theft of the century".
According to Mr. Basha, these charges have been pressed to conceal any traces that exist.
The charges had been announced a while ago during a debate between the left wing majority and right wing opposition on the CEZ affair.
Prime Minister Rama's government accuses its predecessors for corruption and for the same things that the opposition accuses the government today.
The figures that the latter claims to be losses for the Albanian state amount to over 600 million euros, but the government seems as if it's trying to prove the contrary.
However, this is the first time that the government of the socialist PM Edi Rama, two years after coming in power, accuses high level officials of the opposition for corruption. /ibna/