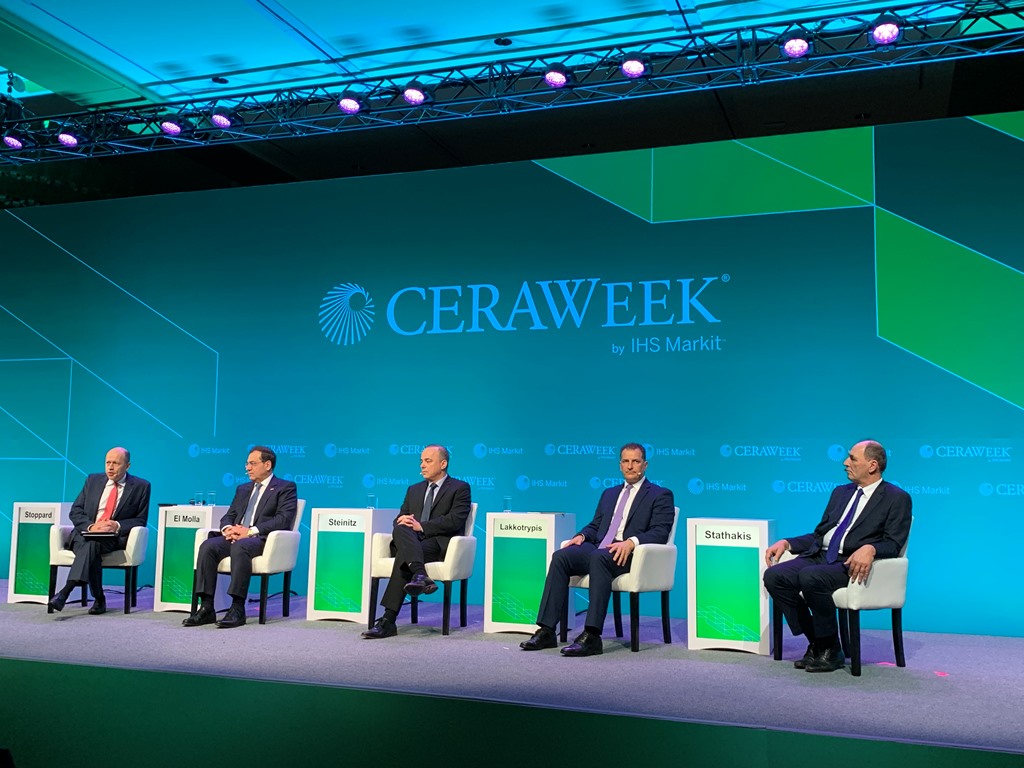 Greece, Egypt, Israel and Cyprus had the opportunity to confirm their full support to the East Med gas pipeline on the occasion of the CERAWeek held in Houston, USA.
Greek Environment and Energy Minister Giorgos Stathakis, participated along with his counterparts from Egypt, Tarek El Molla, Israel, Yuval Steinitz, Cyprus, Giorgos Lakkotrypis and US Undersecretary of State for Energy, Mark Menezes, at a workshop on the prospects of SE Mediterranean as an oil and gas producer, where once again the excellent climate of cooperation between the four countries was affirmed, while the deepening of their cooperation was discussed, in order to establish a regional gas market with a global range.
At the same time, the four ministers co-organized a panel titled Eastern Mediterranean Gas Renaissance, where they had the opportunity to present to top executives of energy companies and government representatives, energy developments in the region and the major infrastructure projects that will support the future exploitation of natural deposits in SE Mediterranean.
The recent gas exploration discoveries in the region form very positive expectations for the transformation of the region to a large gas exporter, with the explorations that are to begin immediately in Greece expected to further enhance this trend, noted on his part the Greek minister Environment and Energy.
The establishment of the "Forum for Natural Gas" in Egypt is a decisive step in strengthening cooperation in this direction, as the involved countries should deepen their cooperation on the complete mapping of proven and probable reserves, as well as in the maturation of infrastructure for commercial exploitation.
All parties involved have indicated that given that so far natural gas reserves have been found in the region, the East Med pipeline, which will connect the Southeast Mediterranean to the heart of the European market, is a technically and commercially viable solution that will contribute to the commercial exploitation of the deposits and will enhance the security of supply in Europe.
In this new geopolitical environment, Greece is the main transit gate for the European and Balkan market and is ready to fulfill its role as a potential producer.
The maturation of the interconnection projects carried out within the vertical corridor that accelerates the completion of the Balkan gas market, will also attest to this./ibna