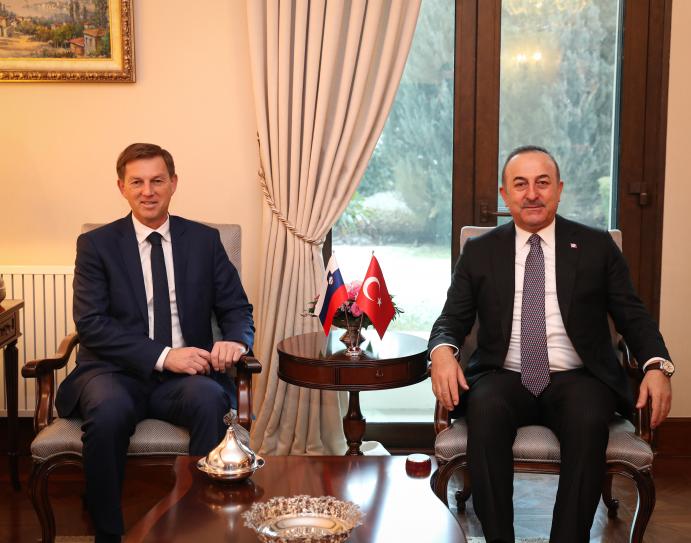 Slovenian Foreign Minister Miro Cerar kicked off a two-day working visit to Turkey's capital Ankara on Monday, where he will participate, along with an expanded business delegation, to the Turkish-Slovenian Business Forum.
On the first day of his visit, he had a bilateral meeting with Turkish counterpart Mevlut Cavusoglu in a highly constructive debate as they described it.
Discussions focused on bilateral co-operation, immigration, the situation in the Middle East, the Balkans and EU-Turkey relations.
As regards bilateral cooperation, they discussed strengthening cooperation between their countries in the fields of energy, agriculture, logistics, technology and information, tourism, sport and science.
The Slovenian minister noted that a key concern of his country's government is the Western Balkans' immigration route. In this view, Turkey's role in successfully managing the migration pressures on the migration routes to the eastern Mediterranean is crucial. Slovenia recognizes Turkey's efforts to cope with Syrian immigrants and refugees, and is actively involved in financial support within EU mechanisms. Cerar also urged his counterpart to step up co-operation to combat the organized migrant trafficking network.
Turkey remains of strategic importance to the EU for many reasons. Slovenia is working to resolve disputes between Turkey and the EU, thereby allowing the continuation of the dialogue between the EU and Turkey on its accession to the Union. Οn the condition that "Turkey will respect the rule of law, human rights and follow EU standards. A bridge of confidence must be built", Cerar pointed out.
On the situation in the Middle East, the two ministers dealt with the situation in Syria, Iraq and Iran. Slovenia continues to urge all parties to support the immediate cease of hostilities in northwestern Syria.
In addition, the Slovenian Minister emphasized Slovenia's commitment to start accession talks between North Macedonia and Albania with the European Union. Just last week, the European Commission announced the proposal for a new enlargement methodology. In the run-up to the early elections in North Macedonia on 12 April, Slovenia is trying for a decision by the end of March./ibna