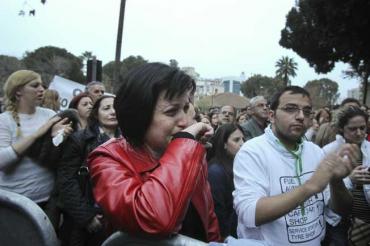 Cyprus will take measures to consolidate its banking sector, including steps to avoid bankruptcy at its second largest lender, Popular Bank , Central Bank Governor Panicos Demetriades said on Thursday.
"By establishing this legal framework, resolution measures will be imposed on Popular Bank so that it will be in a position to continue to offer banking services to its clients next Tuesday," when banks are due to reopen, he told reporters. "Otherwise, the Popular Bank will be led to immediate bankruptcy and termination of its operation with catastrophic consequences for the workers and depositors, our banking system and the country's economy.
Demetriades did not elaborate, but said the steps would protect deposits of up to €100,000.
At the same time the Popular Bank imposed a €260 per day limit on ATM withdrawals on Thursday to cope with high demand, the island's second largest lender said in a statement.
Customers queued to withdraw funds on Thursday on widespread rumours that the bank was to be closed down, later denied by the central bank.
News of the lender's imminent restructure prompted employees to converge outside parliament to protest.