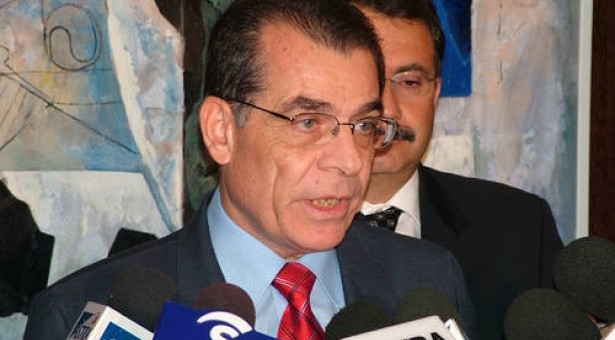 By Kyriacos Kyriacou – Nicosia
"I'm innocent" said to journalists former Central Bank governor Christodoulos Christodoulou before leaving Wednesday the District Court in Nicosia, where he was charged along with his daughter Athena and his former son-in-law Andreas Kizourides in connection with a €1 million cash transfer from a Greek ship-owner to a company managed by his daughter.
They were charged by the Legal service of Cyprus, which is examining many cases related to financial crime in part of a general investigation launched to bring to justice all those who contributed in the collapse of the island's economy. The three pleaded not guilty to  eleven charges, which include conspiracy to commit felony and forgery. The defendants were released on a €5,000 bail until their trial on June 27. Christodoulou added outside the court that "I was and still am an honest man".
Zolotas and Vgenopoulos
The charges are linked with a document submitted to a Marfin-Laiki Bank branch in Athens, which stated that Kizourides had sold the daughter's company two plots of land in Strovolos for €1.1 million. The letter was allegedly written to enable the transfer of the €1 million, which was deposited in the company's account in Greece, to an account belonging to Kizourides in Cyprus.
He also submitted a copy of an agreement between his daughter's company and Focus, a company belonging to Michalis Zolotas. Zolotas is said to be a close associate of former Laiki strongman Andreas Vgenopoulos whom politicians in Cyprus have accussed for having a major role in the collapse of the island's banking system. The transfer in question was allegedly made to the company's Athens-based bank account in July 2007. Around two years later, the €1m plus interest was then allegedly transferred to an account in Laiki Bank.
Christodoulou had served as Governor of the Central Bank of Cyprus from 2002 to 2007, and the suspicious transfer was reportedly made a few months after his term expired.