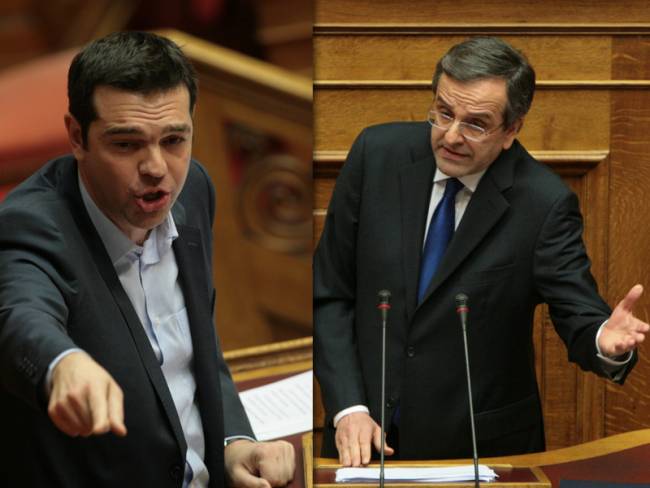 By Lefteris Yallouros – Athens
With Easter festivities now over, Greek political parties turn their focus to crucial election battles in May. Latest polls show conservative New Democracy trail main opposition Coalition of the Radical Left (SYRIZA). Both parties are consistently on 18-20%. For the ruling coalition this means the future of socialist PASOK and how it fairs in European Parliament elections on May 25th in particular, could prove majorly important.
A possible launch of talks with Greece's international creditors about the country's debt is considered too little to catapult New Democracy to an election win. Despite positive developments in the economy lately, Greeks appear determined to send home a message to the government in the local and Europarliament elections. Austerity has hit households, pensioners and poorer members of society hard and this will almost certainly be mirrored in the election outcome.
The question for the government is the performance of PASOK, analysts say. The party that won 43.9 pct of the national vote in 2009 is struggling at around 5 pct in polls nowadays. Austrian newspaper Die Presse describes PASOK leader Evangelos Venizelos as captain of a sinking ship having decided to hide the name of PASOK behind the "Elia" (Olive Tree) electoral alliance for the May election.
Without PASOK, however, there would be no ruling majority. The European Parliament election is crucial because it will determine where center-left voters will swing. Will they lean to the center and support the rebuilding of the socialists or will voters side with SYRIZA and its more radical proposals primarily in the economy? How this question will be answered is likely to decide if Greece will be thrown into political crisis yet again, making an early general election impossible for Prime Minister Antonis Samaras to avoid.
In this context, "To Potami" (the River), led by Stavros Theodorakis, a television journalist, is also trying to plug the gap opened up by PASOK's slump. With 11-15%, within three weeks of its launch, it is clear that traditionally center-left voters will have a major impact on the country's future this May. Evangelos Venizelos's gamble with the Olive Tree project may save or destroy PASOK and the coalition government too. If "To Potami" manages to come in third (as polls predict), the ruling coalition could at least see SYRIZA halted and the New Democracy – PASOK result made much more manageable.