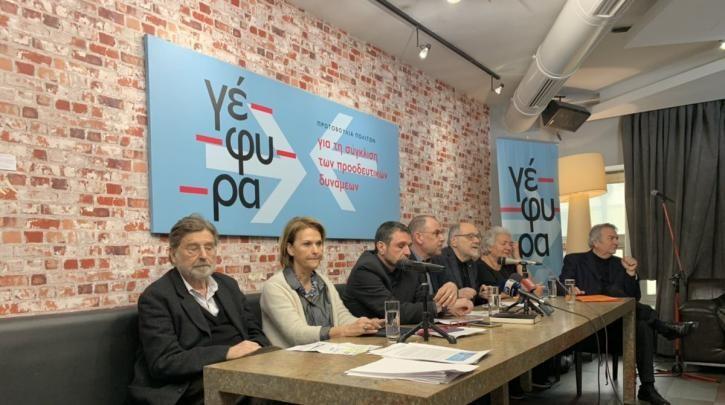 More than 100 members of the center-left are attempting to bridge the gap that separates them with the leftist SYRIZA, in a bid to form a progressive affiliation, as announced at an event held Monday afternoon in Athens.
According to the text of the "Bridge" initiative, academics, artists, journalists, former ministers and MEPs of PASOK, government officials and intellectuals, call for co-operation in order for "major progressive reforms" to be realised.
At the same time, they call on SYRIZA, which rid itself, as they emphasize, "from the mismatched alliance with ANEL" to take more daring initiatives for dialogue and convergence with the progressive citizens and the collectives of the center-left. At the same time, addressing Fofi Gennimata, they stress the need for KINAL to abandon "the deadlocked policy of the all out attack and "strategic defeat" of SYRIZA and to engage in a dialogue based on programmatic positions".
Signed by Yannis Boutaris, top members of the government present
A "surprise" name in the list of signatories is that of the mayor of Thessaloniki Yannis Boutaris. The government was represented in the initiative by the government spokesman, the House Speaker, the Interior Minister and the Secretary of SYRIZA.
The Central Committee of SYRIZA convenes
Meanwhile, Al. Tsipras sees the response to his invitation for the formation of a progressive front increasing and, according to well-informed sources, other similar initiatives and events will follow. Despite the objections raised from inside SYRIZA, as to the choice of persons after the reshuffle, the prime minister and president of SYRIZA is determined to implement the strategy of the alliance, against the extreme right and neoliberalism.
Moreover, in the coming days, the statement of SYRIZA on the European elections that will set the framework for the alliance between the left-center-left and the Greens will be published. SYRIZA's Central Committee will probably convene on Sunday, to discuss the European election, something that will be decided tomorrow by the Political Secretariat.
Gennimatas' deconstruction operation and the concern about dissolution
These initiatives have prompted the strong reaction of KINAL and its leader Fofi Gennimata, who characterizes "adventurers" those who have responded to Tsipra's call. "Mr. Tsipras chooses – as he ruled with the Right and the Far-right – to rely now on a number of eager adventurers and the unwanted of the Central Left", she said, while a new assault is expected to be launched tonight in a KINAL event in Thessaloniki.
While Gennimata is attempting to dismiss Tsipra's center-left turn as "fake", the cracks inside her party are numerous and it remains to be seen if this will affect the party's numbers in the coming election"./IBNA