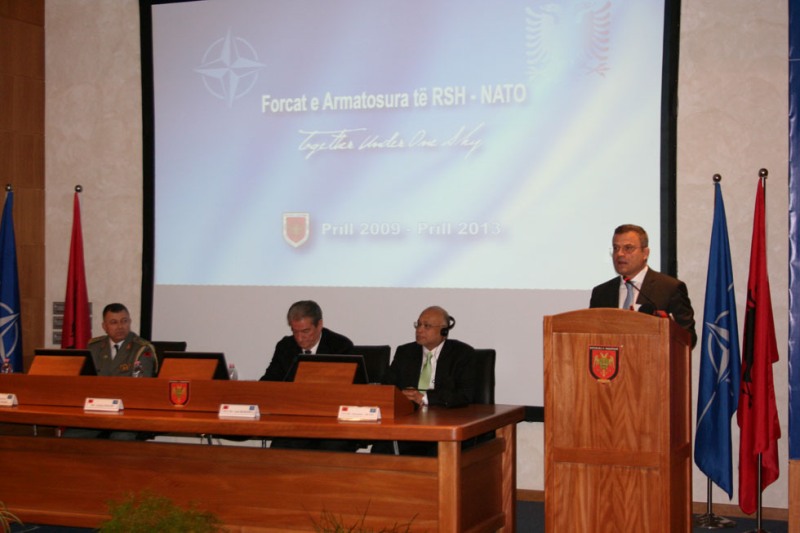 Tirana, April 5, 2013
On the occasion of the 4th anniversary of membership of the Republic of Albania in NATO, this afternoon, at the Training and Doctrine Command auditorium was held the conference with the topic, "The Armed Forces of the Republic of Albania and NATO".
In this conference attended: the Prime Minister of Albania, Sali Berisha, Minister of Defence, Arben Imami, other ministers of the Cabinet, Chief of the General Staff of the Armed Forces, Major General Xhemal Gjunkshi, U.S. Ambassador in Tirana, Alexander Arvizu, high dignitaries from other state institutions, authorities from the diplomatic representatives, defence attachés accredited to our country and many other guests.
The aim of this conference was to bring to attention a special day for our country, such as the membership of the Republic of Albania in NATO, through papers, various documentaries and pictures, which showed and reflected the contribution and commitment of our country to NATO.
Speaking about this significant event for Albania, Minister Imami said: "Four years after the accession, Albania is not only more secure on the national defence point of view, but also offers all the guarantees for a secure development."
While making a brief overview on the fundamental achievements of the country's membership in NATO, Minister Imami said that, the process of complete and final integration of the Albanian Armed Forces in NATO has been the main focus of our four year work.
This process has involved the AF transformation into a NATO force, in all areas, such as personnel, modernization, planning, training, education and it was led and monitored step by step by NATO Command for Transformation (ACT), through integration conferences held twice a year, Minister Imami said. /ibna/