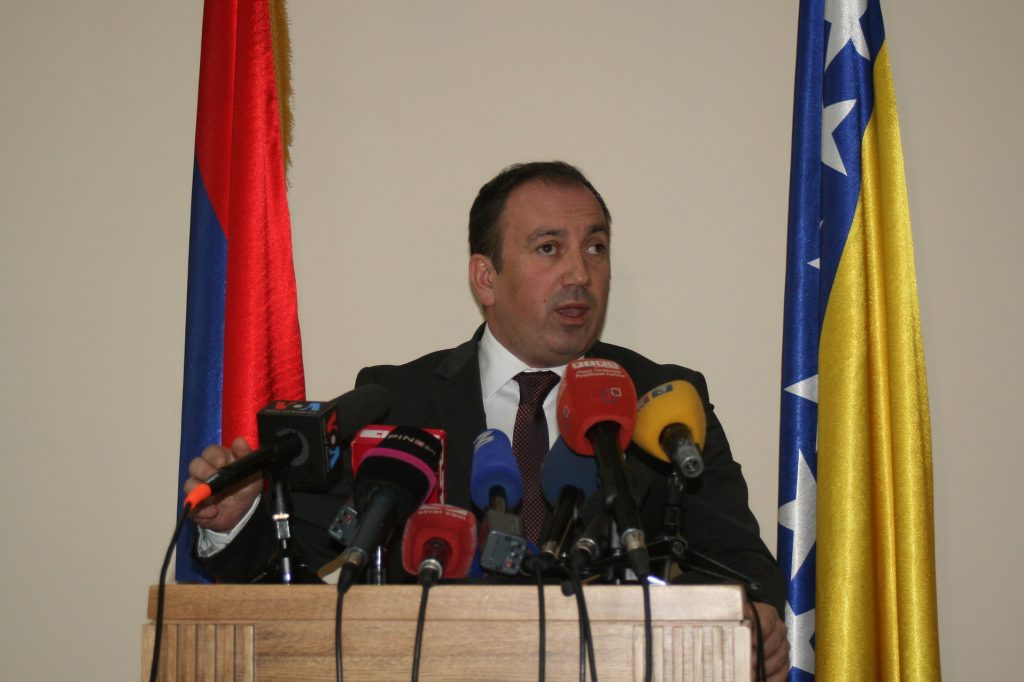 Banja Luka, June 15, 2016/Independent Balkan News Agency
By Mladen Dragojlovic
One of the most important meetings during Bosnia and herzegovina presidency in Central European Initiative will be the CEI Ministerial conference which will take a place on Thursday in Banja Luka.
The meeting will be attended by the Commissioner for European Neighborhood Policy and Enlargement Negotiations Johannes Hahn, as a special guest, confirmed on Wednesday the Foreign Minister of BiH Igor Crnadak, the host of the meeting. Their participation to this important meeting has already been confirmed the foreign ministers of Austria, Bulgaria, Hungary, Serbia, FYROM and Belarus, and other countries, members of CEI, which will be represented by Deputy Foreign Ministers and state secretaries in the ministries.
As Crnadak stressed, key topics to be discussed at the meeting are how to improve the regional cooperation and put it in the function of European integration. But, as he said, the Conference must give some answers on the issue of combating terrorism. One of the topics for the meeting is also the issue of migrations in CEI.
"For BiH this conference will be held at a very delicate moment, when we do all to ensure that EU that accept our application for membership in this organization. We would do all to get the positive  answer from the Council on Foreign Affairs in July. In this context participation of Commissioner Hahn and ministers representing EU countries is very important for us", said the head of BiH diplomacy.
The meeting in Banja Luka, said Crnadak, will be an additional opportunity for affirmation of BiH after the presidency of the Council of Europe. He argues that chairing CEI reaffirms the State's position in international relations and organizations, and shows that BiH can play a serious role in the political arena.
As a representative of Banja Luka and RS in the BiH Council of Ministers, Crnadak also expressed satisfaction that the meeting would be held in the largest city of the Republika Srpska, because it is a chance for additional promotion of Banja Luka and this entity in BiH.
As many other participants on the conference, Commissioner Johannes Hahn arrived on Wednesday in Sarajevo where he had a meeting with the Chairman of the BiH Presidency, Bakir Izetbegovic. Then, according to his scheduled, he will travel to Banja Luka where in the evening he will have a meeting with Serb member of BiH Presidency, Mladen Ivanic.