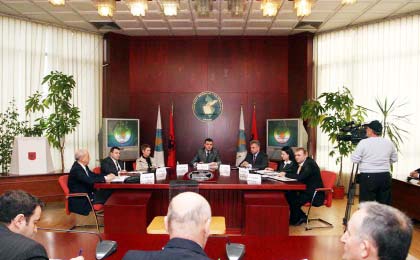 By Ariola Imeri
The Central Election Commission has practically started the preparations for the general elections of June 23.
In the presence of international institutions, CEC started to train today the instructors of the commissioners who will be in the Local Election Administration Areas.
The chairman of the CEC, Lefteri Lleshi demanded from political parties to cooperate with the institution that she leads, in order to achieve a fair process and in accordance to the required standards.
"Parties must join the positive will of the CEC, in order to offer to citizens a fair and honest process, in order for the result to be acceptable from all parties", said Lleshi.
The head of the CEC praised the role of instructors by saying that the "role of the instructors of the LEAE-s is important for the elections, therefore they must be unbiased."
The training of the commissioners of the LEAE-s is carried out with the assistance of the OSCE Presence in Albania.
The OSCE Presence in Albania is supporting the Central Election Commission in holding trainings for 76 instructors, selected by the CEC, in relation to the Electoral Code, which has recently been changed.
First sessions will be held on April 26 and 27, to be followed by a second round of sessions on April 29 and 30. /ibna/