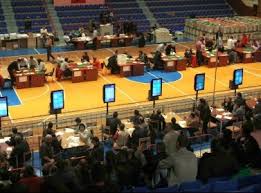 Tirana, June 25, 2013
The Central Election Commission has published the percentage of gained votes by every political subject in the 12 constituencies of the country.
According to the graph of the CEC, until 12 am, The Socialist Party leads in 9 constituencies.  Meanwhile, according to the CEC, the counting process has been completed to a level of 77.03% on a national scale, or 4243 ballot boxes out of 5508.
The ranking of electoral subjects in percentage according to constituencies based on gained votes until 12 am:
Berat
SP – 46.57%
DP – 20.70%
SMI – 24.03%
PJIU- 0.84%
Durrës
SP – 40.09%
DP – 32.73%
SMI – 7.62%
RP  – 7.06%
NDS – 2.97%
Fier
SP – 44.16%
DP – 21.72%
SMI – 10.07%
PJIU – 4.61%
Korça
SP – 43.32%
DP- 32.23%
SMI – 9.91%
RP – 3.07%
UHRP – 2.09%
Lezhë
SP – 35.76%
DP – 34.96%
SMI – 11.67%
CDP – 3.55%
RP – 1.80%
Dibër
DP – 40.40%
SP – 33.62%
SMI – 13.45%
NDS – 3.11%
RP – 3.06%
Elbasan
SP – 42.20%
DP – 27.10%
SMI – 10.82%
PJIU- 7.59%
RP – 3.84%
Gjirokastër
SP – 41.88%
DP – 22.06%
SMI – 21.39%
UHRP – 3.76%
RP – 2.57%
Kukës
DP – 48.22%
SP- 23.92%
SMI – 12.22%
RP – 5.14%
LMP – 2.43%
Shkodër
DP – 37.57%
SP – 30.41%
SMI – 11.21%
RP- 4.28%
Vlorë
SP – 46.77%
DP – 17.66%
SMI – 8.87%
PJIU – 5.64%
UHRP – 5.30%