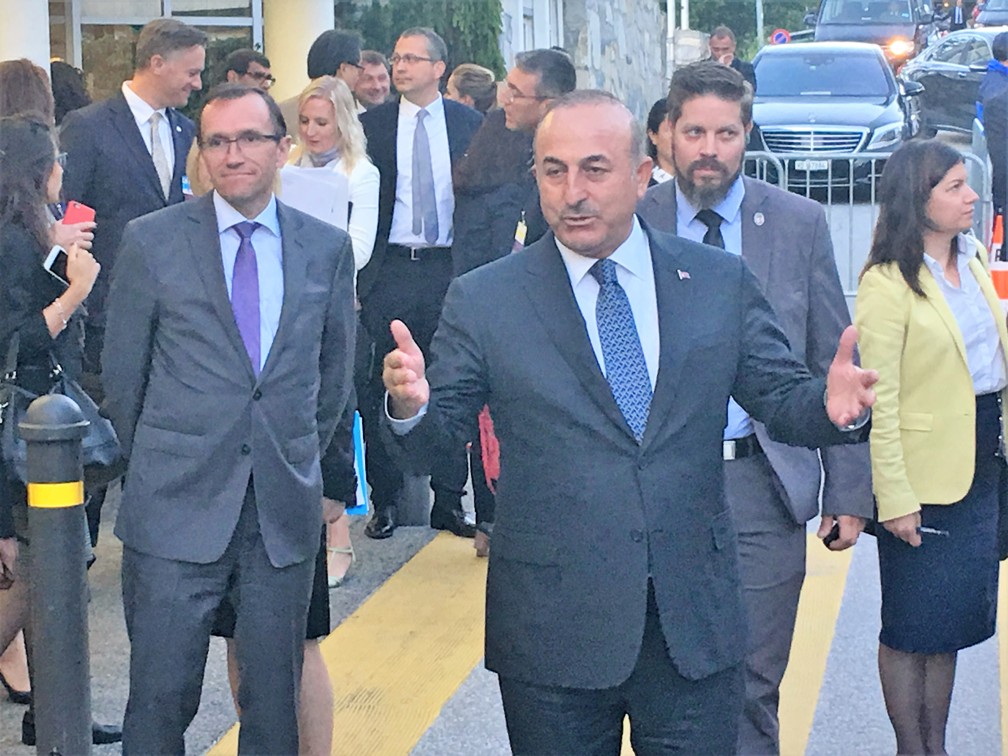 Turkish Foreign Minister Mevlut Cavusoglu announced that the conference on Cyprus has come to an end and suggested that there would be a solution with different parameters.
"There is no point in sticking to these parameters," Turkish Foreign Minister Mevlut Cavusoglu stated, saying that efforts for a just and lasting solution to the Cyprus problem ended without result.
The Turkish Minister reported that the Greek and Greek Cypriot side did not retreat from their position for zero army and zero guarantees, something which is not acceptable to the Turkish side. "Therefore, the complete withdrawal of the Turkish army from the island and the abolition of the Turkish guarantees was not an approach that could be accepted neither by the Turkish Cypriot side nor by us, and they kept the same attitude from day one to the last" the Turkish Foreign Minister said.
According to the Turkish Foerign Minister it was the SG that ended this process, adding that he did not see any light in the approach. Mr Cavusoglu stated that if there was a positive approach they would also have called the Prime Minister to Crans Montana but because the political environment was not right the talks were terminated. Cavusoglu said that they will now assess the situation and decide what the next steps will be.
Although the Turkish Foreign Minster said he did not want to blame any side at this time, he added that during the process unfortunately he saw political games and a document leaks.
Specifically, the Turkish Foreign Minister said that unfortunately the conference that started on 28 June in Crans Montana did not succeed, saying that Turkey did everything it could to achieve a just, lasting and viable solution to the Cyprus problem.
He said that over the past 15 years, since the day they came to power, they helped to find a solution, while recalling that the Greek Cypriot side had rejected the Annan plan. The Turkish Minister said he had appreciated Turkey's constructive stance and that the Turkish side had done what it could at the negotiating table. "Unfortunately, despite all efforts, we did not reach a result," he said, adding that it has been revealed that it is impossible to find a solution within the framework of the UN's parameters.
As he said, it makes no sense to insist on these parameters, adding that the Turkish Government, the President and the Prime Minister will be briefed in detail and the necessary assessments will be made.
On his message on twitter Mr. Cavusoglu states:
"Conference on Cyprus has unfortunately not produced any results. Turkey was very constructive but no agreement could be reached.This outcome shows the impossibility of reaching a settlement within the parameters of the Good Offices Mission.No use in insisting on them. important to maintain and increase stability on the Island and in the region. We will continue efforts for a settlement within different parameters."/IBNA
Photo: IBNA/Spiros Sideris