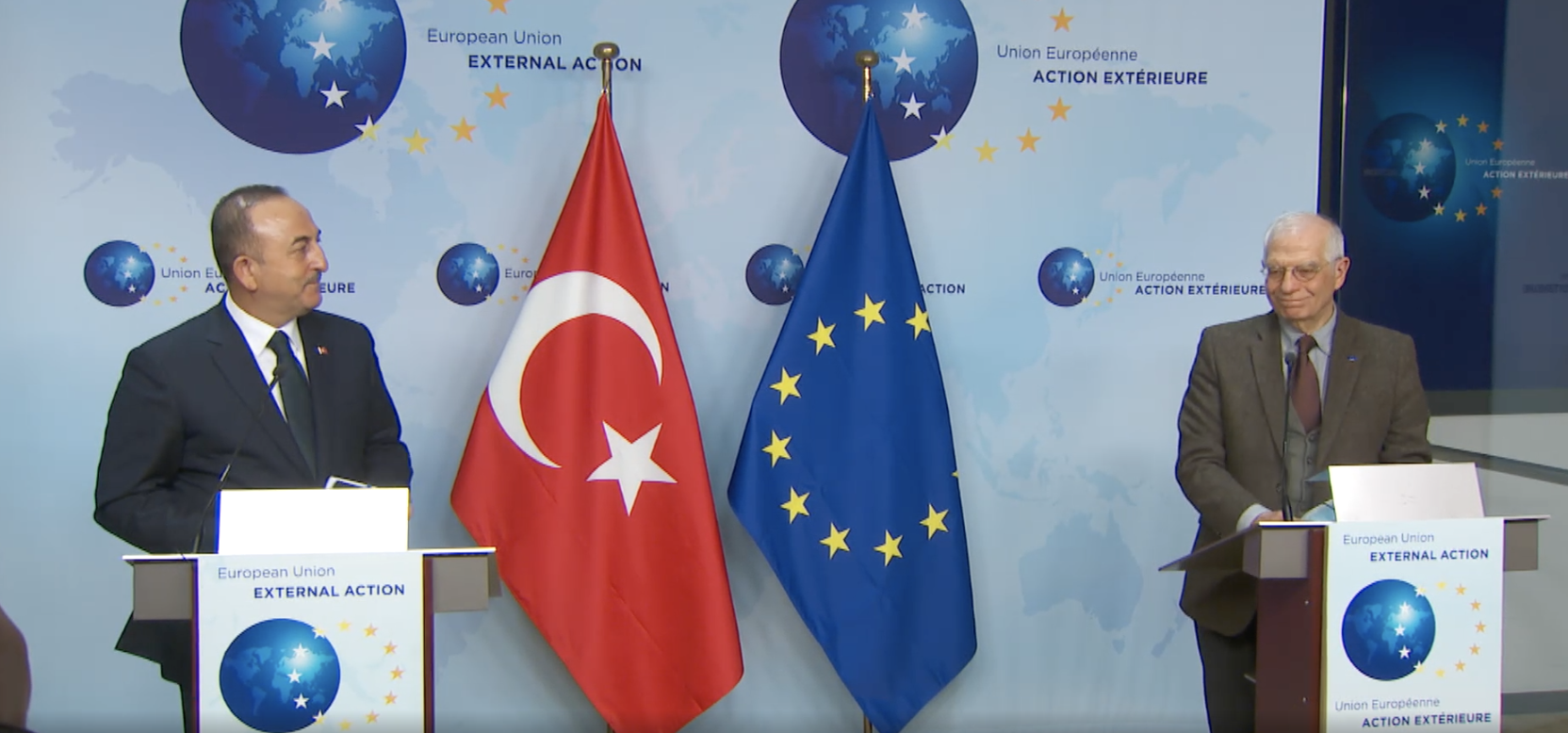 EU High Representative for Foreign Affairs and Security Policy Josep Borrell met today in Brussels with Turkish Foreign Minister Mevlüt Çavuşoĝlu, with the two officials addressing a joint press conference.
High Representative Josep Borrell stated in the joint press conference:
"Good morning to all, good morning Minister, dear Mevlüt. I am very pleased to receive today in Brussels, at the headquarters of the EEAS, my colleague and friend, Turkish Foreign Minister Mevlüt Çavuşoĝlu.
We will take the time to evaluate EU-Turkey relations and discuss how they can move forward. Last year was complicated for these relationships. We have recently seen an improvement in the overall atmosphere on both sides, as well as some important steps. Today's meeting is also an important step towards the pursuit of mutual strategic interests, the development of our cooperative relationship and critical common values ​​and principles. Another positive step is the announcement of the start of exploratory talks between Greece and Turkey. Such efforts must be sustained. Intentions and announcements must be transformed into actions. Another important step is the efforts of the UN Secretary General to resume talks on the settlement of the Cyprus issue. We are fully committed to supporting a speedy resumption of these talks – under the auspices of the UN.
We express our strong desire for sustainable de-escalation in the Eastern Mediterranean, but also in the wider region. I am convinced that we can engage more intensively in a meaningful dialogue in order to strengthen the importance of political processes related to regional conflicts, whether they take place in Syria, Libya or Nagorno-Karabakh. We will certainly discuss – with full respect for each other and in an open and honest way – the political situation in Turkey and the prospects for accession. We are absolutely sure that a dynamic Turkish society will emphasize the need for this dialogue. We will continue to be concerned about the situation in Turkey in every way, because the country is an important neighbor and we want to build a common future with it."
On his part, the Turkish Foreign Minister stated:
"Thank you, distinguished friends. I am here following an invitation sent to me by my dear friend Josep Borrell. That is the reason behind my visit to Brussels. We have a full schedule today and tomorrow. I will hold a series of meetings in Brussels.
2020 was a troubled year for EU-Turkey bilateral relations, the implications of which were reflected in last December's European Council and its Conclusions. Since then, however, the two sides have expressed a desire to create a positive atmosphere and develop ties between them. The two sides made mutual statements in order to form a more stable and sustainable dimension in bilateral relations and to restart the dialogue. It is in this context I am visiting Brussels at this time.
Turkish President Recep Tayyip Erdogan invited the President of the European Council Charles Michel and the President of the European Commission Ursula von der Leyen to visit Turkey. During my stay in Brussels, I will be working with Josep Borrell to prepare the ground for these visits.
Of course, it is very important to create a positive atmosphere and a positive agenda, but in order for this agenda to be sustainable, we need concrete steps on both sides. Together with the HR/EU we will work on the initiatives that have already been taken. We will discuss the EU-Turkey Declaration, the renewal of which we have already proposed, and we will try to clarify the details of such a consensus or a Declaration. We will also discuss the details of a multilateral conference on the situation in the Eastern Mediterranean. We will also consider the next steps towards holding this Conference. Other important issues will be raised, such as visa liberalization, the modernization of the Customs Union, and other concrete steps that will build a common EU-Turkish future.
Today and tomorrow we will communicate our own expectations from our partners. We will, of course, listen to the expectations of our EU counterparts, as well as the institutions. I hope and wish our meetings turn out to be fruitful.
EU-Turkey relations are important not only per se, but also for prosperity in our region and in order to overcome regional challenges through joint efforts. We will discuss this issue as well. Thank you very much." /ibna