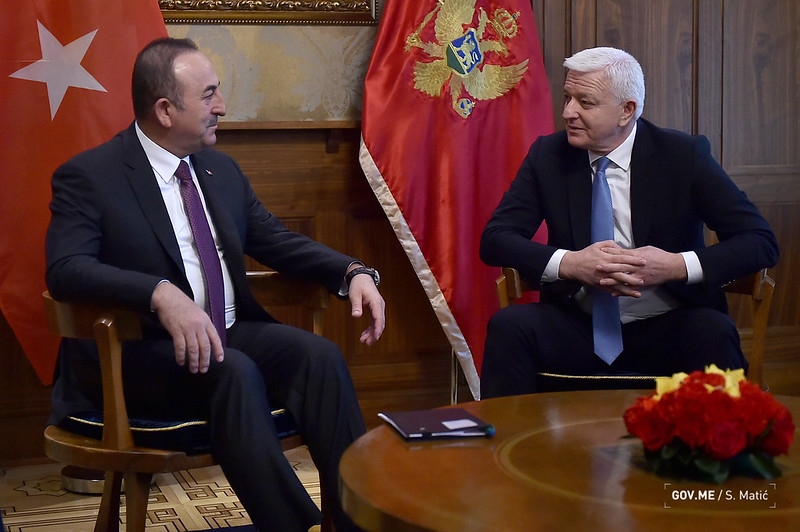 Montenegro and Turkey have an excellent friendly and partner relations, as well as strong economic cooperation with good prospects for its further strengthening, it was noted at the meeting between Montenegro Prime Minister Duško Marković and Minister of Foreign Affairs of Turkey Mevlüt Çavuşoğlu, who is paying an official visit to Montenegro.
"Montenegro has been experiencing strong economic growth over the last three years. We are an extremely attractive investment destination, and I hope that Turkish companies will be more present, and make their investments in the north of our country. I am looking forward to the increase in trade and I expect further growth of overall economic cooperation", Marković said.
He pointed to large investments in overall infrastructure, and jointly stated the new value that Montenegro, its tourism and economy can gain by valorising the airport, in which Turkish companies have expressed interest.
Minister Çavuşoğlu stressed that Montenegro and Turkey have excellent relations and cooperation in all areas. He also pointed to the assistance Turkey is providing to Montenegro through its International Cooperation and Development Agency (TIKA). The Turkish Foreign Minister underlined Montenegro's importance for peace and stability in the Balkans.
The two officials exchanged views on the current situation in the region and stressed the importance of having a clear European and Euro-Atlantic perspective for the Western Balkans. The alliance within NATO is at high-quality level, and it was noted that Montenegro was contributing to the achievement of the Alliance's goals.
Minister Çavuşoğlu also met his colleague, Montenegrin Foreign Minister Srđan Darmanović, and Montenegrin president, Milo Đukanović.
During the meeting with Đukanović, the Montenegrin president emphasized the good relations between Turkey and his country especially mentioning good diplomatic links that last for 141 years. Montenegro and Turkey, as Đukanović stressed, have excellent links in the area of culture, health and education. Đukanović also emphasized the cooperation between Turkey's and Montenegro's health institutions. He added that economic cooperation is of utmost importance and welcomed the intention of the companies from Turkey to invest in his country.
Çavuşoğlu stressed that cooperation is visible through more than 2 000 companies from Turkey in Montenegro and added that these companies confirm Montenegro as a country with the good ambient for investments./ibna