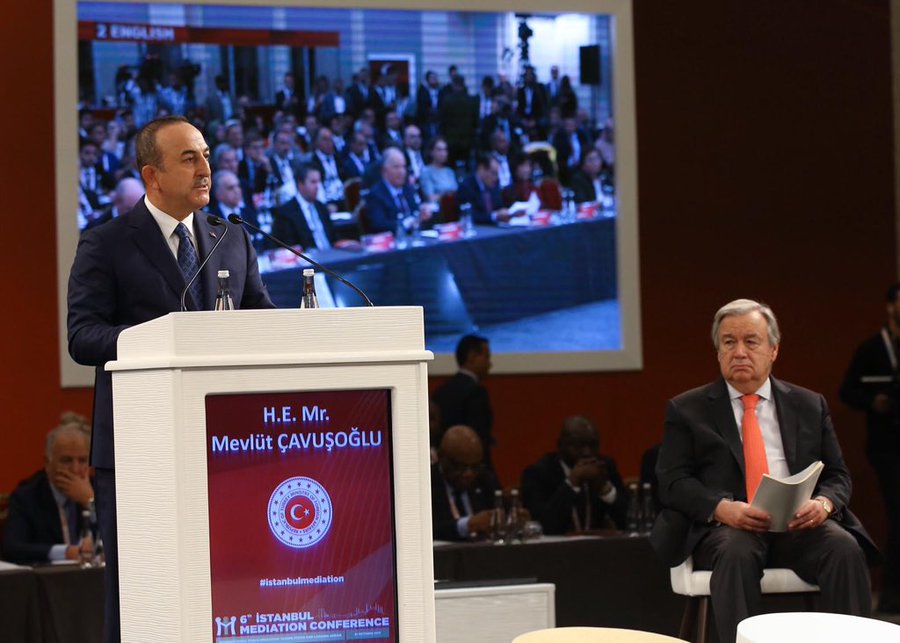 "Effective mediation" and "preventive diplomacy" are crucial tools in tackling the ongoing conflicts that occur around the world, Turkey's foreign minister said on Thursday during the Mediation Conference in Istanbul.
"We are witnessing the emergence of a new set of challenges, such as terrorism, radicalism, climate change, poverty, extremism, xenophobia, Islamophobia and anti-Semitism", Cavusoglu said.
Underlining that this conflict has become more complex, Cavusoglu said: "Conflict prevention and resolution efforts must match the complexity of conflicts worldwide".
"The need for effective mediation is greater than ever", the FM of Turkey stressed, adding that "preventive diplomacy and conflict resolution have become more crucial".
Referring to the slogan put forward by the founder of the Turkish Republic, "Peace at Home, Peace in the World", Cavusoglu noted that this is not a preference, but a necessity, given the geography that is affected by many conflicts.
Finally, the head of Turkish diplomacy referred to Turkey's initiatives, such as the Peace Mediation with Finland at the United Nations.
"Today, the UN Friends of Mediation Group has 59 members, representing all continents, regions and major international organizations, contributing decisively to mediation", Cavusoglu added.
Cavusoglu stressed that this "increase in diplomacy for peace" has upgraded the place of mediation and conflict prevention in the UN.
"This is an important service for world peace and stability", the Turkish Foreign Minister said.
Addressing UN Secretary General Antonio Guterres, who is attending the Istanbul Conference, Cavusoglu concluded: "We support your efforts and truly appreciate your presence here today".
The 6th Istanbul Mediation Conference was entitled "International Peace Mediation: Exploitation and Perspective". The Conference was attended by Politicians, diplomats, international organizations and NGOs./ibna