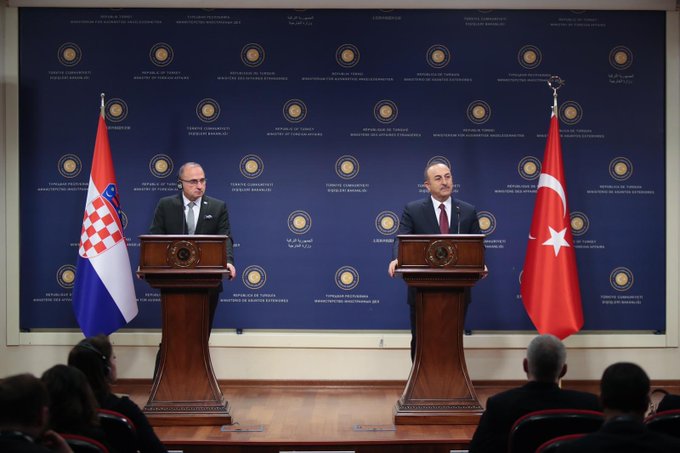 The deployment of military forces to Libya is not currently on Turkey's foreign policy agenda, but the country could consider doing so in the event that the UN-recognized Libyan Government proceeds to such a request, Turkey's Foreign Minister Mevlut Cavusoglu stated.
"At the moment, as no such request has been made, we do not have a plan to send military units [to Libya], but the president told us earlier that it is something we could assess if requested", Mevlut Cavusoglu said on Wednesday, during a joint press conference with his Croatian counterpart Gordan Grlic Radman in Ankara.
Croatia, as a member of the EU, will join the European community in the dispute over the Eastern Mediterranean; yet Turkey views Croatia as an "objective and sincere" country, the Turkish Foreign Minister added.
Mevlut Cavusoglu noted that he had briefed his Croatian counterpart Grlic Radman on Ankara's policy in the area, which is based on ​​justice and international law, adding that the Turkish Government expects the EU to resolve the dispute instead of backing unilateral actions by Greece and the Greek-Cypriot Government.
"We want to develop relations with the EU in a reciprocal way, but this cannot be one-sided", Cavusoglu commented when asked about Ankara's relations with the European Union.
Turkey's accession to the EU, immigration, the customs union agreement, the war on terror and the visa issue are considered to be hot issues regarding the relations between them, adding that "there are commitments the EU has failed to meet in the agreement on the migration issue. The European Union must do its job".
"We are following the path of dialogue, cooperation and diplomacy", he stressed and underlined that the challenges the EU is facing today cannot be resolved on their own, but instead require international cooperation.
Grlic Radman, for his part, said his country was satisfied with the developed bilateral relations with Turkey and added that the two countries had enormous potential to boost their trade volume.
The volume of bilateral trade could amount to $ 1 billion and entrepreneurs could invest on both sides, he noted.
Croatia's Foreign Minister referred to Turkey as a "strategic partner" and an important international factor in his country's eyes.
He went on to say that Turkey played a pivotal and successful role in tackling terrorism and immigration, while thanking Cavusoglu for Turkey's efforts to assist the Syrian and Afghan migrants.
Highlighting that Croatia and Turkey constitute important allies in NATO, he said both sides have worked diligently to safeguard European security.
The Croatian Foreign Minister claimed that the current political crisis around the world stemmed from asymmetric threats, speaking of small terrorist groups, and added that today's war, especially against terrorism, has changed drastically.
Finally, he stressed that terrorism has no religion and is not a national issue in today's world; all countries must work side by side to eliminate this threat. /ibna