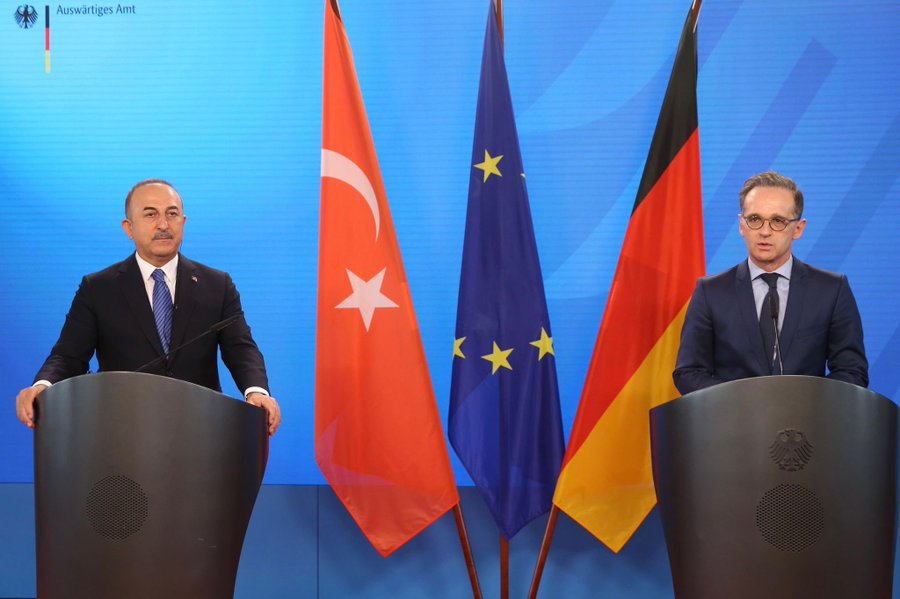 Foreign fighters and mercenaries should leave Libya, but these forces should not be confused with legitimate forces training Libya's military under a pact with the legitimate government, Turkey's foreign minister said Thursday, according Anadolu Agency.
"There are many foreign fighters and mercenaries in Libya. We agree on their withdrawal," Mevlut Cavusoglu told a joint news conference with his German counterpart Heiko Maas in Berlin.
But he stressed that Turkey's military training support for Libya's legitimate government cannot be compared with these fighters and mercenaries.
He also warned that calling on Ankara to end its support for Libya's government would in fact undermine this legitimate government.
The "agreement between the two sovereign countries addresses essential needs of Libya with regards to military training and consultancy, (and) ending this support would not be in favor of Libya," said Cavusoglu.
Calls from third parties to end the "agreement between the two countries would not be the correct approach," he added.
The 2019 security cooperation agreement between Turkey and Libya has been credited with helping end the country's civil war and promoting peace and unity under the legitimate government.
Cavusoglu also stressed that Libya's newly formed government should be supported to help prepare Libya for elections later this year and meet public needs.
German Foreign Minister Maas said they have discussed various international issues with his Turkish counterpart, including Libya, Afghanistan and Syria.
"We are also concerned about the situation in Syria, where millions of people are dependent on international humanitarian aid," he said, and criticized Russia for blocking cross-border humanitarian aid to northern Syria.
Moscow has long opposed the cross-border mechanism which enables the delivery of UN aid from Turkey to Idlib in northern Syria, and threatened to veto a UN Security Council resolution for its extension.
Maas said both Germany and Turkey share a common understanding on this issue, and expect Russia to change its approach and allow the cross-border support's extension at the UN Security Council in July.
Praising the dialogue and cooperation between Germany and Turkey amid the coronavirus pandemic, Cavusoglu said they marked the 60th anniversary of the labor recruitment agreement, which enabled a great number of Turkish citizens to immigrate to Germany.
"Bilateral trade volume with Germany may exceed $40 billion this year," the Turkish foreign minister said.
On Turkey-EU relations, Cavusoglu said there is a positive atmosphere in relations and that Germany has greatly contributed to this.
"It is time to take concrete steps," he said, adding that negotiations to update the Customs Union should begin without preconditions.
Underlining the importance of high-level contacts, he said all aspects of the 2016 EU-Turkey migration deal should be reviewed and implemented more effectively.
Cavusoglu thanked Germany for its "constructive and prudent approach" on different agenda items, for its support to de-escalate tensions in the Eastern Mediterranean and efforts for a settlement on Cyprus.
"While we are trying to improve our bilateral relations in the upcoming period, we are determined to continue our cooperation with Germany on regional issues as well," he added.
The German foreign minister also welcomed de-escalation of tensions in the region and expressed hope that dialogue between Turkey and Greece, and the UN's efforts for a Cyprus settlement would open the way for long-term solution to the current problems.
"Germany is in favor of constructive relations with Turkey," Maas stressed, adding that his government supports closer dialogue between the EU and Turkey.
Despite difficulties experienced in 2020, relations seem to be much better this year, he added.
Responding to a question over the US decision to support lifting intellectual property protection on coronavirus vaccines in order to stop the pandemic, Cavusoglu underlined the importance of better cooperation and joint production.
Cavusoglu said Turkey has advocated that no country should be left behind in medical supplies since the beginning of the pandemic, adding Turkey has the same opinion on vaccines.
"Respecting copyrights of firms that develop COVID vaccines, countries need to cooperate better in joint production," he said.
Emphasizing that international organizations, including the World Health Organization, should undertake coordination and facilitating roles, Cavusoglu said: "This problem will remain. We see that vaccines will be needed in the coming months and years. For this reason, a better cooperation, including joint production, is needed for the vaccine to reach the whole world."/ibna
Source: Anadolu Agency