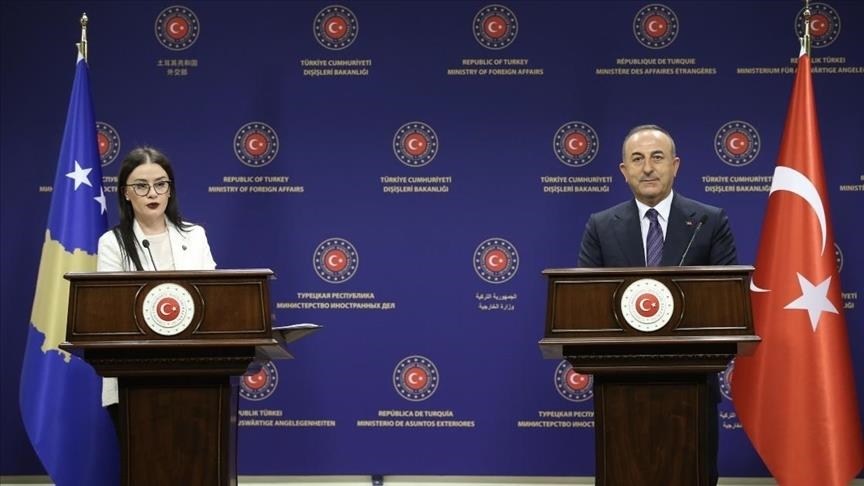 Turkish Foreign Minister Mevlüt Çavuşoğlu and Kosovo Foreign Affairs and Diaspora Minister Meliza Haradinaj-Stublla confirmed the strengthening of Turkish-Kosovo co-operation from Ankara.
Turkey and Kosovo must continue to co-operate in the fight against the Gülen Terrorist Group (FETÖ), Mevlüt Çavuşoğlu said during a joint interview, noting that Kosovo has taken action against the organization and has co-operated with Turkey on the issue.
Stressing the importance of maintaining co-operation between the two countries in view of FETÖ's continued focus on Kosovo, Çavuşoğlu added: "FETÖ, in its current state, may not do much harm to Turkey, however it remains a very serious threat and danger to Kosovo. This organization must move away from Kosovo."
The Turkish Foreign Minister also noted that Turkey supports the Kosovo-Serbia dialogue process.
Haradinaj-Stublla thanked Turkey for the solidarity "that no other country has shown them during this difficult year with the pandemic."
She added that Kosovo relied on Turkey's support for access to COVID-19 vaccines.
Kosovo's foreign minister noted that Turkey was one of the first countries to recognize Kosovo's independence, stressing the friendly relations between the two nations.
The two ministers signed memoranda of understanding (MoUs) on a political consultation mechanism and diplomatic exchanges.
Regarding the dialogue process with Serbia, Haradinaj-Stublla said that Kosovo is determined to resolve all issues peacefully, adding that "Serbia, unfortunately, is not a partner that adheres to agreements, principles and good neighborly spirit," she said. /ibna