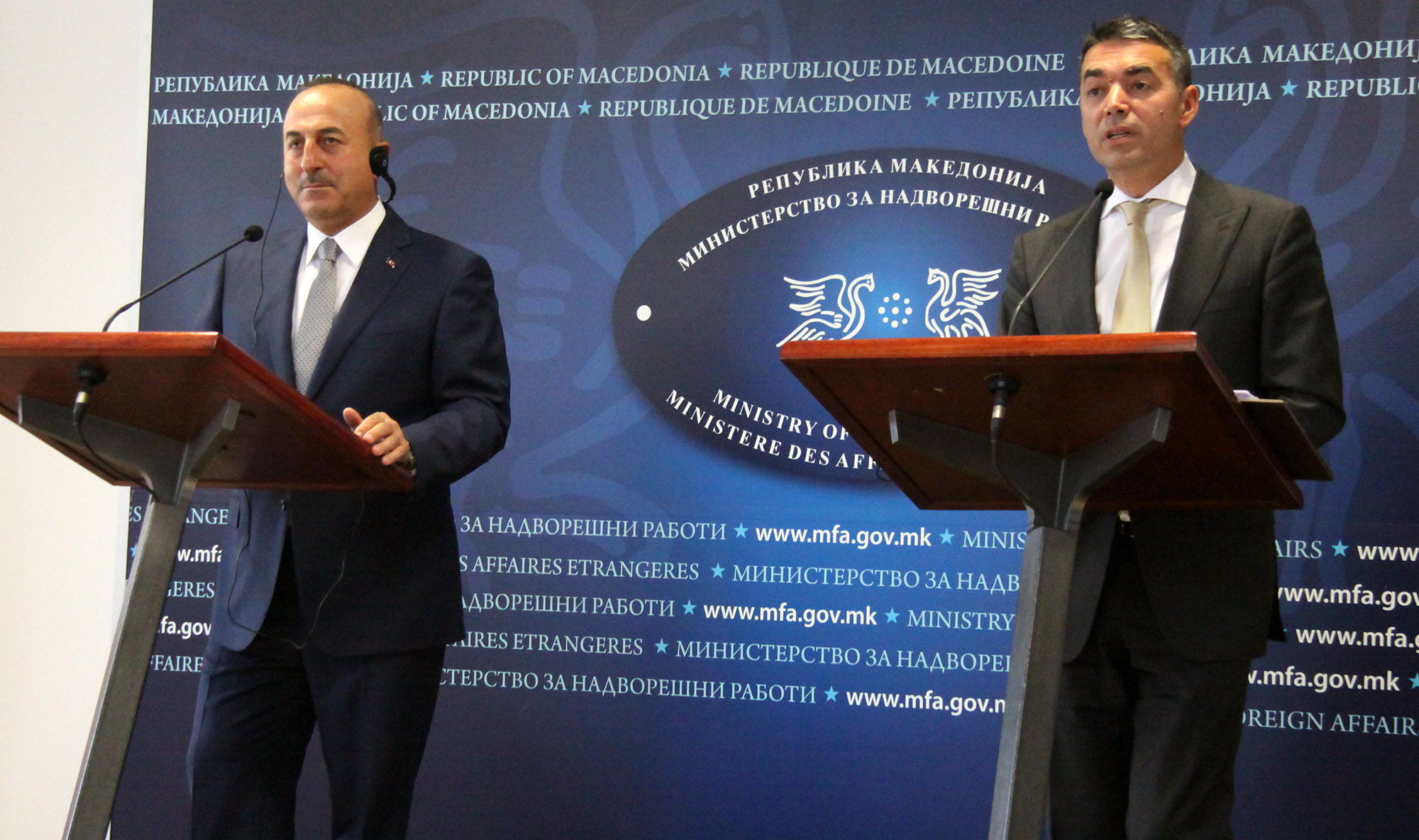 The Foreign Minister of Turkey, Mevlut Cavusoglu was in Skopje this weekend for an official visit. The Turkish chief of diplomacy initially had a meeting with his counterpart, Nikola Dimitrov and then with President George Ivanov, leader of VMRO-DPMNE, Nikola Gruevski and then with Prime Minister Zoran Zaev.
"These meetings discussed the strengthening of ties between the two countries. The relations between the two countries are an example. The stability of Macedonia is important for the region. By learning from the past, Macedonia has made an important step for the solution of the crisis. We have seen how this multi-ethnic country could move forward. In this country, we feel at home. We're committed to tighten relations between the two countries", Cavusoglu said in a press conference.
Meanwhile minister Dimitrov stressed the importance of economic cooperation with Turkey, by stressing that they have talked about new Turkish investments and new agreements between the two countries.
"I'm sorry about the crisis in Qatar, because it is reflected in the entire region. To us, relations between the countries of this region are important. We're against an embargo and we don't keep sides. We don't agree with the allegations that this country is supporting terrorism. There must be talks and these issues must be addressed through understanding", Dimitrov said.
Cavusoglu and Dimitrov also talked about the country's accession in the NATO. The Turkish Foreign Minister said that Turkish support will continue, however, he said that a solution must be found for the name contest.
"As you know, by first official visit was in Athens with my colleague, Kotzias. We will try to convince the Greek side through legal and political arguments, to come up with a solution. The solution of the name dispute is important for our country, but the region too, because our accession will have a positive impact for the region", said Dimitrov, who didn't comment on the possible names for the solution of the contest, such as Macedonia of Vardar.
The Turkish Minister Cavusoglu said that Turkey backs the efforts to become a NATO member, but also the efforts for the solution of the name contest.
"We're the first country to have recognized the country through its constitutional name and we support it. As far as NATO is concerned, Macedonia is making its efforts to become a member of this organization. We back any solution which is acceptable by Athens and Skopje", said Cavusogly.
The two foreign ministers highlighted the need for joint fight against international terrorism.
"Terrorism is a common enemy and we must fight it together. Terror is an issue that crosses any borders. We are collaborating in the domain of security, especially in the fight against terrorism", said the Turkish Foreign Minister. /balkaneu.com/