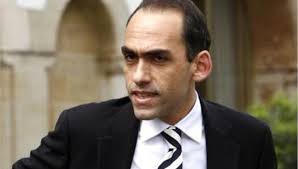 By Thanasis Gavos – London
A six-hour visit to London by Finance Minister Harris Georgiades last Tuesday was the culmination of a sustained charm offensive by CIPA (Cyprus Investment Promotion Agency), which has undertaken the duty of attracting investors to the crisis hit island country.
The main task of Mr Georgiades was to explain to the international media (and also some potential investors or other opinion makers) that the current government in Nicosia has been following word by word the Memorandum of Understanding signed with the troika of creditors. The Financial Times, the Wall Street Journal, the Economist and Reuters were among the big news outlets interested in hearing what the relatively young minister had to say.
And what he said focused on the determination of President Anastasiades and his team to leave no doubt that the Cypriot economy is undergoing a profound overhaul, as prescribed by the troika partners. "We are a pro-business, pro-reform government with a clear plan agreed with our troika partners which we implement," said the minister in his key message.
Asked by IBNA what model for the national economy now that the banking system has shrunk so significantly, Mr Georgiades said that it is not the government's job to dictate which economy sectors should flourish. Instead he remarked that "as any free marketeer" would say, the administration's duty is to clear the way for all able sectors to expand.
Such remarks were bound to go down well with the London audience. But what Mr Georgiades was mainly asked, revealing what preoccupies the international community with regard to Cyprus's economy, was when capital controls will be completely lifted and what the prospects are over the reunification of the island.
On the first issue Mr Georgiades sounded reassuring, echoing those who predict that lifting controls is a matter of months; although at that time the very crucial issue of possible capital flights will have to be evaluated. On the latter, as he suggested, there is only so much a Finance Minister can say, at least until Turkey matches actions with words. Nevertheless, he noted that the potential economic benefit of a reunified country is "enormous".
In all this consideration Mr Georgiades did not really include the exciting energy prospect for the economy. He wanted to give the message that he is pragmatic and hard working, not depending on future revenues.
He just hopes the international media and British investors duly noted his cautious approach and lack of over-excitement. Cypriot officials seconded his words by saying the minister is only focusing on doing the job in hand.
It was telling that the cautious and focused Mr Georgiades only permitted himself a smile when he predicted a milder that assumed recession for the current year.