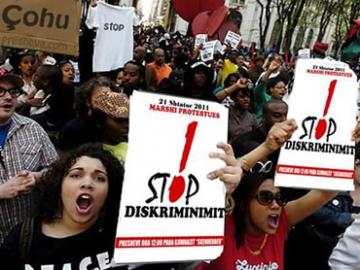 Skopje December 10, 2013 / Balkan Independent News Agency
Non government organizations in the Former Yugoslav Republic of Macedonia claim that many citizens are discriminated and that there are constant cases of the violation of human rights.
Helsinki Committee for the protection of human rights and liberties, published on Tuesday a report in Skopje, where it stressed that freedom of speech and media, judicial protection and discrimination are three problematic domains in FYR Macedonia.
The report was published on the occasion of the International Day of Human Rights. Data show that the state of human rights in this country hasn't changed in several fields and in several others, it has deteriorated, such as in the freedom of speech and media, judicial protection and discrimination.
"Through political and financial pressure, the state continues to intervene in editorial policies of a large number of media, instead of promoting the freedom of speech. Journalists continue to face self-censorship for fears of prosecution. Although there are tendencies of reforms in the judicial system, this institution continues not to enjoy the trust of the citizens. We don't have independent decision making from judges. There are suspicions for political influences in judicial rulings", states the declaration of the Helsinki Committee.
As far as discrimination is concerned, alarm is launched for discrimination of ethnic communities, discrimination of the homosexual community, discrimination in employment and other domains of life.
The Ombudsman, Ixhet Memeti called on Tuesday for respect for human rights.
"Respect for human rights is imperative for all of us, regardless of our race, religion or work position. This is the foundation of contemporary cohabitation. History has shown us that development and prosperity go hand to hand with mutual respect. Every individual has his human rights", declared Mr. Memeti.
According to him, it's the state that must offer the necessary conditions for citizens to feel equal.
On the occasion of this day, many non government and human rights organizations have held activities offering messages in defense of human rights and liberties in FYROM. /ibna/