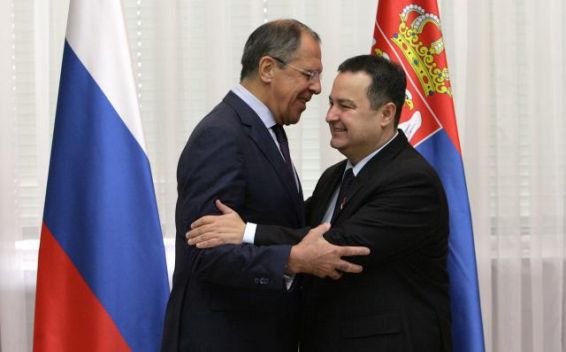 Serbian foreign minister Ivica Dacic has said that Sergey Lavrov, his Russian homologue, is his "dearest guest". "Lavrov is the first person I call every time Serbia has a problem", Dacic said for Pink television.
"We are not yet in a position that when we call Carry (John, US secretary of state) we know that some problem is resolved… When we call Lavrov that does not mean that the problem is fixed, but we know that Russia is on our side", Dacic said. He recalled Russia's support to Serbia in United Nations Security Council, singling out British failed resolution on Srebrenica and Kosovo's attempts to gain membership in a number of international organizations. "This is a relation of friendship", Serbian FM stressed.
With reference to recent UN voting on human rights in Crimea, when Serbia did not vote for the proposed resolution, Dacic said that Serbia cannot vote against Russian interests and expects this support to go both ways.
Dacic said that Serbia must understand ongoing processes in the world such as the Brexit, and election of Donald Trump for a new US president. Trump's victory announces a new position of American at the international stage, Dacic added.
"Trump's victory means that Serbia will have a better period than during the terms of Obama or Bill Clinton because Trump announces different US approach to world crises", Dacic explained recalling that president-elect suggested that he doesn't think that America "should meddle in all crises and take up the role of world's policeman".
Dacic claimed that Trump "frequently" illustrates such an approach by mentioning "Balkans and bombardment (against Serbia). Still, the FM stressed that the changes projected by the media, such as the claim that Trump would "return Kosovo to Serbia", should not be expected./IBNA