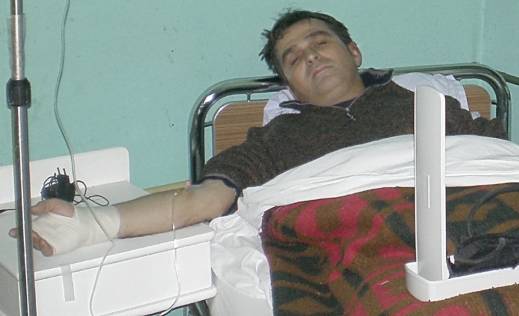 By Adnan Perekic – Podgorica
After seven years the police and the prosecutor have solved the case of the attack on journalist Tufik Softic. Journalist of "Vijesti" and "Monitor" was attacked on the November 1, 2007 by two masked gunmen who were waiting in ambush outside his family home. Police arrested two of the attackers and in the criminal complaint was included the ordering party who is already in prison in Serbia.
Vladimir Labudović and Ivan Asanovic are suspected of the attack on journalists Tufik Softic. The arrest of Labudovića and Asanovic was conducted after the prosecution successfully found a witness who, 15 days ago, in his statement had given details as to who ordered and how much they paid to beat up Softic. The prosecutor ten days ago revised the case, based on the new opinion of medical experts, who said that this felony was an attempted murder and not the cause of serious bodily harm. Softić was attacked on November 1, 2007, at the door of the family home. He was attacked by two masked man who were hitting him with batons on the head and caused him serious injuries.
In addition to the two attackers, police's criminal charges included Dragana Labudovića, who is suspected of organizing and paying the attack on the journalist. Labudović before the attack threatened Softić because of his articles in the newspaper. Labudovic is already in prison in Serbia since he was part of the criminal drug cartel of Darko Saric and has been arrested in the operation Balkan Warrior.
The case of the attack on the journalist was supposedly resolved based on the testimony of witnesses associates that told details as to who ordered and how much that person paid in order to get Softic a beating.
Minister of Internal Affairs Rasko Konjevic said that he is satisfied with the work of the police and prosecution authorities, who in the past have worked on solving the case of attack on journalist of "Vijesti" Tufik Softic. Stating that this is the case that burdened Montenegrin public, Konjevi said that he is pleased that he has the opportunity to praise the work of the police and prosecutorial authorities.
The attempted murder on Tufik Softic is not the only attack against him. The last attack on Softic took place on August 11, 2013, approximately at 10 pm when explosive were thrown at his yard. Police is still working on solving this case.