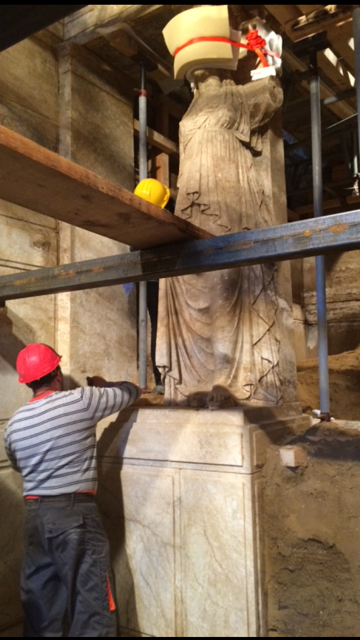 Review Hari Stefanatos
The KH' Ephorate of Prehistoric and Classical Antiquities continues its archaeological research in the tomb complex in the hill of Kasta in Amphipolis. The last two rocks of the sealing wall in front of the second septal wall were removed, revealing marble pedestals upon which the Caryatids are standing.
The decoration of the pedestals is a continuation of the marble revetment walls. It consists of marble blocks with peritainia. The height of the pedestals is 1.40m, Width 1,36m, and 0,72m in thickness. The total height of the statue and pedestal is 3,67m. The second floor is elevated by 0.0 m. Trace of blue color are detected at the front of the upper surface.
The excavations works in the chamber behind the Caryatids, by removing soil to a depth of 1.5m, revealing the continuity of the marble revetment walls, as in the previous room, and a large part of the doorway that leads to the third hamber.
The supports works have also been completed, by adding columns in the first chamber and the placement of horizontal struts in the second, in order to proceed with the removal of the debris. Furthermore, with the continued removal of debris from the doorway of the third diaphragm wall, works have began in shoring the third chamber.