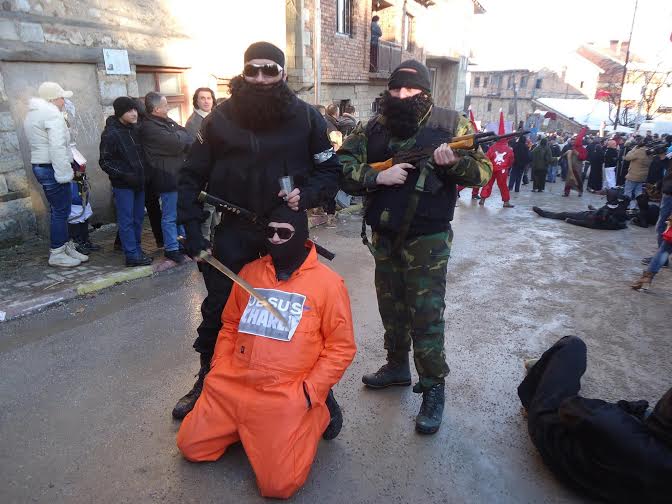 IBNA Special Report
Skopje, January 15, 2015/Independent Balkan News Agency
By Naser Pajaziti
In Vevcani, a small commune in the west of the country which has 2 thousand residents of ethnic Slav-Macedonians, a traditional carnival with masks has fueled the curiosity of many world media and foreign visitors.
This traditional manifestation started yesterday. This event has been a tradition for hundreds of years.
But what are the masks or improvisations that dominated this carnival that was opened by the minister of Culture, Elisabeta Kancevska-Milevska?
What's dominated and what fueled the curiosity of the carnival was  the "Je suis Charlie" scene, where the attack against the Parisian magazine was improvised and the protagonists were masked terrorists and victims of the massacre.
"We have improvised the event at Charlie Hebdo because it's actual and we planned this at the last minute. We only want to symbolize one thing with this, without provoking anyone or without being tendentious", says one of the protagonists of this  scene, which was clad in black and had a Kalashnikov in his hand. On the other part of the scene were other protagonists such as the journalists who were victims of the slaughter. The other scenes and masks that dominate the carnival relate to the current problems of the country, attacking and making fun of the electric power company EVN, which has been recently been accused of leaving without power supply many areas in the country. Besides this, there have also been other political messages through masks and improvised games by symbolizing poverty and social crisis, economic problems, government failures and other current events.
Minister of Culture, Elizabeta Kancevska-Milevska said that this carnival is symbol of the country which conveys symbolic messages, but also cultivates the tradition and rituals of the people.
"This event is a symbol of hospitality and humanism which is expressed through masks and different symbols. The carnival consists on a rich tradition which is inherited generation after generation", said minister Milevska during the opening of the carnival.
The carnival will last several days and it will also see the participation of other neighboring countries.
This year's carnival has avoided provoking events that were present in past years, such as the mocking of the Islamic creed and Quran, which had sparked reactions and protests among Muslims in FYROM. /ibna/