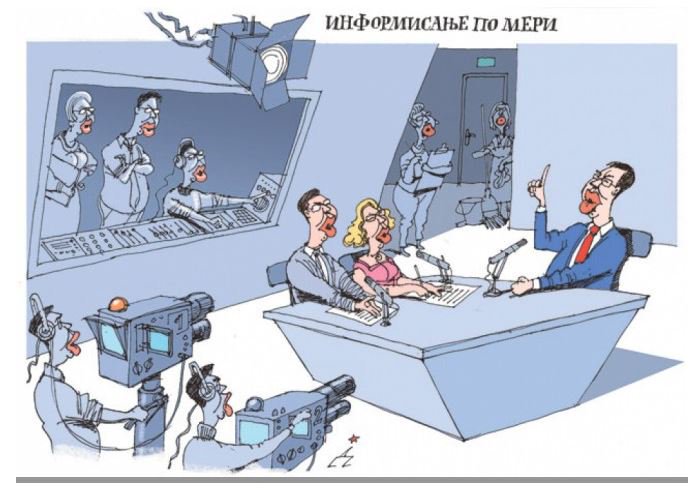 The caricatures installed in the library in Belgrade municipality Lazarevac have been moved one day after the exhibition of the two artists – Dusan Petricic and Predrag Koraksic – was opened. The director of the library "explained" that the organizers of the exhibition did not say how long it Would last, while Petricic and Koraksic and even some library stuff claim that the director was afraid of the government.
The works of both Petricic and Koraksic mostly refer to politics in Serbia, with the representatives of the government, including President Aleksandar Vucic, being their main "bad guys".
Serbian daily Danas has recently been sharply criticized by the high officials of the ruling Serbian Progressive Party (SNS) led by Vucic, because of Koraksic's caricature in which he suggested that some SNS executives are inspired by Hitler and Goebbels; even Vucic reacted negatively on the caricature.
SNS officials said in the parliament that Koraksic and Danas are insulting Vucic, while newspaper's editor-in-chief Dragoljub Petrovic replied that "in the caricature was Hitler, not Vucic".
In Lazarevac library caricatures of Petricic and Koraksic lay on the floor now; the director Jasmina Ivankovic has ordered so, according to N1 TV. Ivankovic told reporter that the organizers of the exhibition did not say how long it would last.
She also said that an opposition politician has been present at the opening ceremony.
Zoran Lutovac, the president of the Democratic Party (DS), apologized to the authors via his Twitter account. "I apologize because my presence has caused the urgent removal of the caricatures".
When asked if politician have the right to attend cultural events, Jasmina Ivanković answered positively adding, however, that Lutovac was not supposed to hold a speech.
At the same time, Marina Gavrilovic, program editor in the library, told N1 TV that "fear and self-censorship" were behind the director's decision.
"I do not have information whether the removal has been ordered from the top (of the SNS) or it was her own decision. Nevertheless, I believe that it was wrong", Gavrilovic said./IBNA