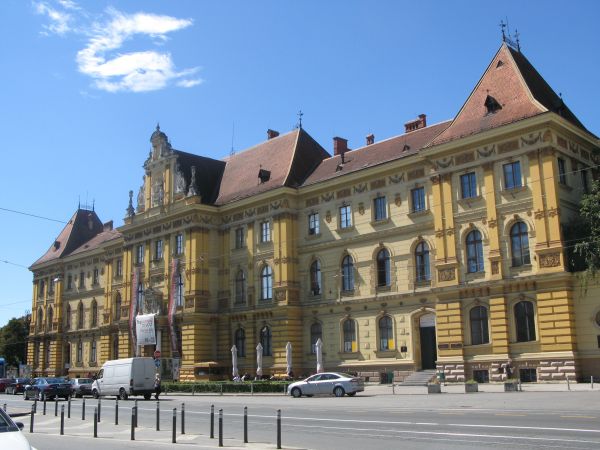 By Natasa Radic – Zagreb
The Museum of Arts and Crafts in Zagreb now hosts the most valuable painting that has ever been in Croatia, an artistic masterpiece. It is the Caravaggio's "Dinner at Emmaus" that has been insured on 60 million euros. The painting is exhibited in the baroque hall of the Museum.
The image has been transferred to Zagreb with the unprecedented security measures. Caravaggio's oil painting dates from 1606, its dimensions are 141×175 cm, and it is kept in the Brera Gallery in Milan. Italy decided to send this masterpiece to Croatia for an exhibition as a welcome gesture on the occasion of joining the European Union. The painting, which shows Jesus after the Resurrection, arrived to Croatia thanks to the initiative of the Italian Ministry of Foreign Affairs and the Italian Embassy in Croatia.
Italian Ambassador in Zagreb Emmanuela D'Alesssandro said that the initial idea for the project came a year ago, as a result of a common desire and an effort of the Croatian Minister of Culture and her Italian counterpart because they wanted to try to emphasize the excellent relations between the two countries in cultural sphere, too and to coincide with time when Croatia enters the EU.
-With this exhibition we wanted to contribute to the celebrations in high style, and the Embassy will organize, during the summer, a number of other cultural activities – she said.
Director of the Museum Miroslav Gasparovic considers that the exhibition of the masterpiece of one of the greatest painters in the history could open the doors for similar projects in this Museum, like 'exhibitions that will go beyond the Croatian and regional frameworks'. We are not only promoting Caravaggio's art but we are also talking about ourselves, because all the visitors to the exhibition will be able to know our cultural heritage, too  – Gasparovic said.