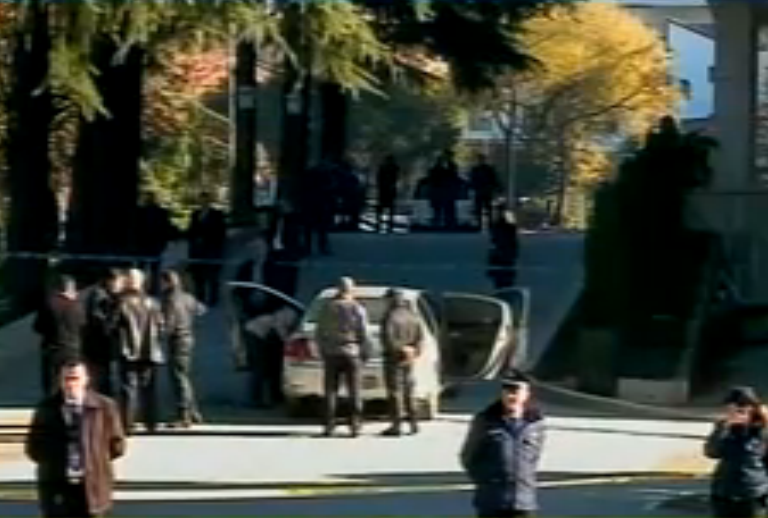 Tirana, December 13, 2013/ Balkan Independent News Agency
A car containing explosive substances (photo) has been parked near the government's building thus causing police to be alarmed and panic amongst people.
The 2007 Peugeot type vehicle with registration number TR 5066 N, was the property of Besnik Rrapo Dervishi, 50 years of age, resident in "Mustafa Matohiti" st. in Tirana.
Police sources said for balkaneu.com that a small amount of explosives was found in the car, but there are still no details on the type of explosive.
A large number of police forces surrounded the government's building and entire personnel were evacuated from the building located in the "Martyrs of the Nation" boulevard in Tirana.
Special Forces and bomb squad carried out a controlled explosion of the suspected car.
Minister of Interior, Saimir Tahiri and Minister of Defense, Mimi Kodheli arrived at the scene. Prime Minister Edi Rama has been on an official visit in Italy since Thursday.
Currently police is not providing accurate information as to the causes why the car filled with explosives has been parked near the government meeting.
Police issues a press release on the event
On December 13, 2013, at around 9:30 am, a "Peugeot" type vehicle with registration number "TR 5066 N", property of Besnik Dervishi, prefect of Vlora, was making its way in the premises of the government building.
After carrying out a specialized inspection at the entry of the building, Republican Guard officers noticed an object suspected of being explosive substance underneath the vehicle.
Officers of the Republican Guard asked the driver and the passenger of the vehicle to get out of the vehicle and blocked the movement of vehicles in and out of the government's building.
Specialized forces of the State Police along with the Bomb Squad from the RENEA unit and Prosecution of Serious Crimes were called in immediately.
Police immediately ordered and took prompt measures for the evacuation of all persons in the vicinity of the building, closing the necessary perimeter in order for the Bomb Squad to operate.
From the detailed inspection carried out by the Bomb Squad on the vehicle, it was seen that an amount of 200 gram of C4 explosive connected to two detonating fuses and a mobile phone, had been mounted on the vehicle.
Bomb Squad from the State Police has taken all measures to neutralize the amount of explosive.
An enquiry team continues its investigation in order to fully clarify the circumstances and motives for this event. /ibna/