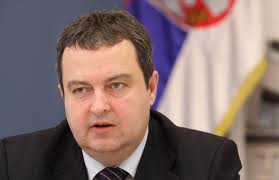 By Milos Mitrovic – Belgrade
Serbia should decide whether to accept the plan on normalization of relations with Pristina until Tuesday 4 p. m., diplomatic sources revealed to Serbian media. To accept the plan that has been offered to Belgrade is precondition for Serbia to get the date for the beginning of EU accession negotiations. However, accepting the plan that was the only solution that has been offered to Belgrade this week in Brussels would be considered as capitulation of Serbia, Prime Minister Ivica Dacic stated yesterday.
"Only a wagon was missing to sign the capitulation", said Dacic in the interview for Serbian daily Vecernje Novosti alluding to capitulation of France during the Second World War. By his own words, he told the same to French Prime Minister Jean-Marc Ayrault during his visit to Paris yesterday.
Dacic revealed that a kind of broad autonomy for Kosovo Serbs would be on the table, but "Serbs are being offered much less jurisdictions that any French town has". He said that EU High Commissioner Catherin Ashton was to start procedure for submitting report on Serbian progress in accession process on 10th of April.
Serbian top officials, including President Tomislav Nikolic, said that the offer from Brussels was very bad, but that they were going to make a decision after discussing all the consequences of eventual refusal or acceptance. According to some Serbian politicians, Belgrade would be in a deadlock at least for two years if the date for starting accession process will not be granted by European Council in June. "Belgrade is to make a decision without a support of a single honest friend from the West", Dacic stressed in Paris.
Dacic and the deputy PM Vucic, who also took part in the last round of negotiations between Belgrade and Pristina, believe that every further offer to Serbia would be even worse. Nevertheless, when Vucic returned from Brussels, he was not talking about "capitulation", but he stressed that Serbia had to choose between two very bad arrangements: accepting the plan would, by his own words, be very bad, while refusing it would mean "the downfall of Serbia".
During Brussels negotiations appeared the information that at one point of discussion, Vucic offered his resignation to Dacic and Dacic refused it. In the last few weeks politicians in Serbia have been talking about possibilities for early elections no matter whether the plan for normalization of relations with Kosovo would be accepted or not.  Dacic is the Prime Minister in the coalition government formed after the 2012 elections, when Dacic's Socialist Party of Sebia (SPS) became a minority coalition partner to Vucic's Serbian Progressive Party (SPP).
According to some public opinion surveys, Vucic is the most popular politician in Serbia, while his Serbian Progressive Party is the party with the largest support of the electoral body.