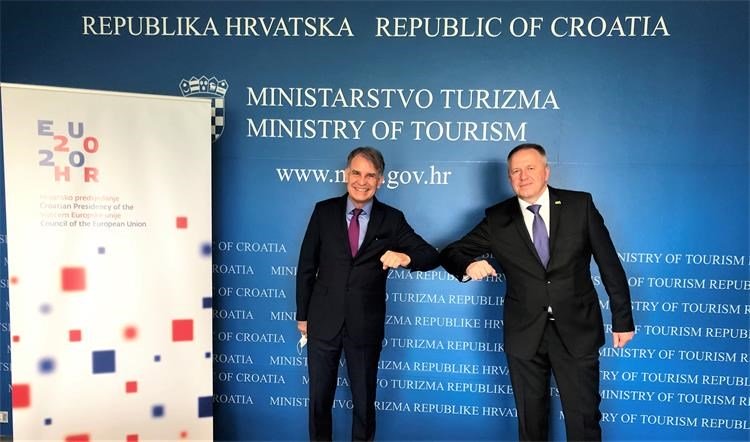 Croatian Tourism Minister Gari Cappelli and his Slovenian counterpart Zdravko Počivalšek met in Zagreb on Wednesday to discuss the tourism industry in the circumstances marked by the COVID-19 epidemic.
In light of the fact that Croatia and Slovenia have been cooperating for years in the joint promotion of their tourist industries, the two ministers underscored the importance of further cooperation in that sector, expressing hope that the epidemiological situation would soon allow for the opening of the borders.
They discussed the idea of enabling travel for tourist purposes, provided that protocols for such travelling could be prepared, as suggested at a recent video conference of the European Union's tourism ministers.
Cappelli and Počivalšek also considered the availability of financial means for the stronger positioning of tourism through the future EU financial frameworks so as to maintain the stability of businesses in this sector.
"Tourists from Slovenia are one of the most numerous and loyal visitors to Croatia and therefore we are talking about the possible reopening of the borders and making it possible for Slovenians to go on holidays in Croatia, provided that there are all necessary measures in place", the Croatian minister Capelli said.
In this context, he recalled that Slovenians have properties in Croatia and are trying to find a solution on how to visit their property in compliance with the epidemiological measures imposed due to the COVID-19 epidemic.
Počivalšek noted that about 110,000 summer houses or second homes in Croatia are owned by Slovenians and that it would be "suitable to allow them to visit their summer homes".
Počivalšek said that Slovenia was optimistic about the partial re-establishment of the cross-border traffic for travellers between the two countries in late summer in compliance with the health protection measures./ibna