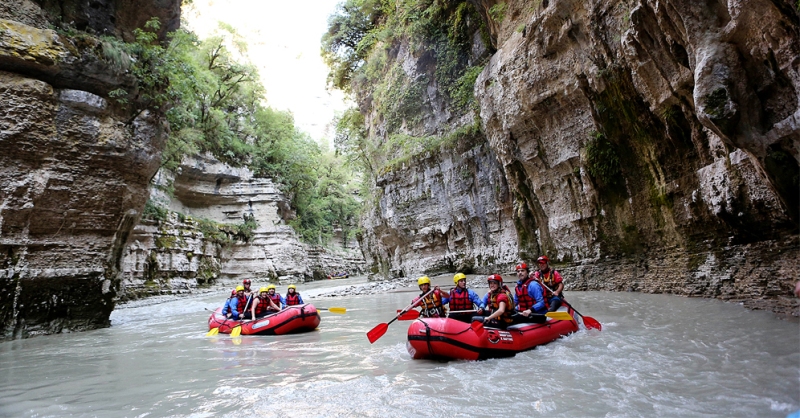 IBNA Special Report
Tirana, June 23, 2014/Independent Balkan News Agency
In an effort to promote alternative tourism, Albanian prime minister, Edi Rama, spend the weekend in Skrapar, in the famous area of the canyons of Osum. In the peak of the tourist season, when people swarm beaches, this is an attempt to discover new ways of attractive tourism.
As you may see in the photos below, the prime minister had a unique experience along with the Albanian Federation of Rafting in the canyons of Osum. Rama considered this a pre historical natural tunnel, adding that its glory becomes tangible only when it's visited.
"Canyons of Skrapar are a new experience of the magic Albania, from an angle never seen before!", Rama describes this experience. He invites every Albanian to create a new experience by visiting one of the most magical natural sites in Albania.
Talking about the potentials of this area for development, the prime minister said that they are both tourist and economic ones.
The government has projects that stimulate tourism and its economic growth. The prime minister stressed the aim to build a modern infrastructure in order to link the Osum Valley with the Vjosa Valley. He said that once this is done, it will transform not only the economic life of this region, but it will also redefine tourism, in order not to be seen only as seaside tourism.
Talking about the projects which aim to develop tourism in this area, prime minister Rama said that:
"Canyons are an extraordinary potential to completely transform the economic life of not only the city, but also the area, to given another meaning to tourism, because we have always perceived it as linked with the seaside. Meanwhile, here we have a big unexploited asset".
The speaker of parliament, Ilir Meta praised the attention that the government pays to the development of tourism and the revitalization of other potentials of this area.
"With this new vision that we have on environment, on the nature, tourism, we have an extraordinary resource to turn all the Osum Valley into an extraordinary source of wellbeing and progress for the entire community and into a unique attraction for all tourists".
Meta suggests that the Osum Valley must be linked with the Vjosa Valley. "This way, we will increase potentials of tourism and we will offer an extraordinary tourist package in the future for all foreign tourists, by including Berat, Skrapar, Permet and Gjirokaster, which will combine the magic of cultural and historical tourism with the tourism of nature and adventure that is offered by the beautiful valleys of Osum and Vjosa", says Mr. Meta. /ibna/