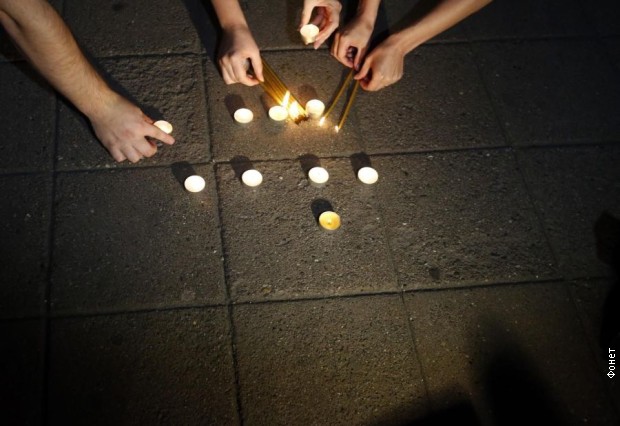 Belgrade, July 11, 2015/ Independent Balkan News Agency
By Milos Mitrovic
The representatives of Serbian non-governmental organizations and citizens have lit the candles to commemorate victims of Serbrenica massacre, on the eve of today's 20 years since the crime was committed. NGO's have gathered in Pionirski Park, near Serbian National Assembly.
Late on Friday, they have been secured by strong police forces given the fact that on the other side of the park right wing organizations have organized their own meeting against commemorations which, as they believe, blames whole Serbian people for the Srebrenica massacre.
NGO activists have symbolically laid papers with number of killed beside the candles. The gathering started at 11:07 PM. The massacre in Srebrenica started at 11:07 on July 11 1995.
At the same time, right wing activists have chanted nationalistic songs and honored General Ratko Mladic and former President of the Republic of Srpska Radovan Karadzic.
Mladic and Karadzic are in the detention unit of the International Criminal Tribunal for the Former Yugoslavia in The Hague which has indicted them for the war crimes including Srebrenica massacre. This Tribunal and International Criminal Court have ruled that Srebrenica massacre was an act of genocide committed by Bosnian Serbs army against Bosniaq people.
The rightist protesters have held transparent "Serbs are the victims of genocide". Vojislav Seselj, Serbian Radical Party leader who is also indicted for the war crimes by The Hague Tribunal was among them. Seselj has been temporarily released in 2014.
The group of people wearing black T-shirts has tried to reach NGO activists but the police forces have prevented them to do that, Tanjug news agency reported.
NGO's have intended to organize rally called "#7000" to honor Srebrenica victims near the parliament today. However, Interior Ministry has forbidden this gathering as well as simultaneously planned rightist meetings due to high security risks.