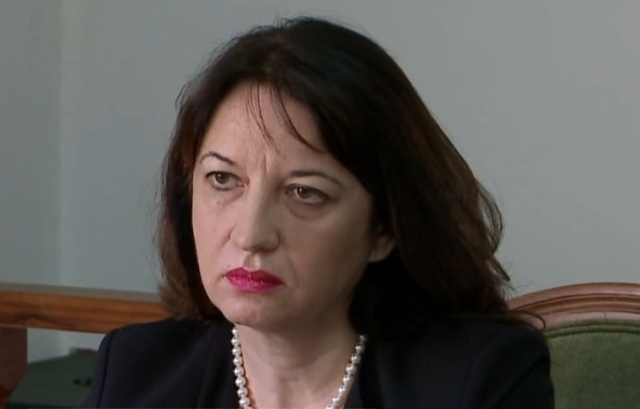 Albanian Parliament has deliberated two candidate names to cover diplomatic centers in Greece and China. They are Ardiana Hobdari for Greece and Selim Belortaja for China.
The candidates were presented by the General Secretary of the Foreign Ministry, Gazmend Barbullishi. He considered the two names as the appropriate candidates for a decent diplomatic representation of the country.
Ardiana Hobdari (photo) has been proposed as ambassador in the Republic of Greece as resident and as nonresident in the Republic of Cyprus, Tunisia and Armenia.
She comes at this post after the end of the term in office for the current ambassador, Dashnor Dervishi. Ardiana Hobdari has previously held the post of the ambassador of Albania at the Council of Europe.
Hobdari brought in front of the parliamentary committee the novelties of an achievable platform in the relations between the two countries in this phase of their progress.
Hobdari said that the mission and the focus of her work will be to continue dialogue between the two countries for the solution of problems.
"Now we have a mechanism of communication between the two foreign ministries, Albanian and Greek, to handle bilateral issues aiming to find a solution for them, divided into three main aspects", said Mrs. Hobdari before elaborating:
"First, issues inherited from the past, originating in the Second World War, the solution of which would release positive energy in the relations between our two countries. Secondly, current issues, which have a direct impact on the daily life of our citizens, mainly Albanians who live in Greece. Thirdly, issues which are key to the future".
Mrs. Hobdari said that in the relations with the neighboring country there's a need for adaption and improvement of consular services.
Meanwhile, Selim Belortaja has been proposed for the post of ambassador in the People's Republic of China, as resident. But Belortaja is also expected to be a nonresident ambassador in Bangladesh, South Korea, North Korea, Vietnam and Mongolia.
Belortaja said that Albania should work with China in order to boost commercial exchanges. He pledged that he will work to encourage joint projects, as Albania has proposed a special package, which includes gas pipelines between Kosovo and Albania, rehabilitation of railways, two incentives for the Silk Road and the 16+1 incentive. The latter is seen by the Chinese side as an important component of cooperation between China and Europe, Mr. Belortaja said.
Hobdari and Belortaja are expected to be the new ambassadors, after they received the full support of MPs. The head of the Foreign Policy Committee, Arta Dade praised the diplomatic career of the two candidates and expressed her conviction that "this task will be successfully delivered at the service of the interests of the country and Albanian nation". /balkaneu.com/