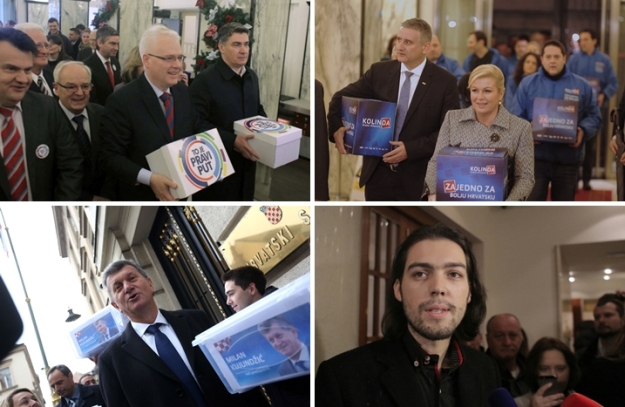 Zagreb, December 8, 2014 / Independent Balkan News Agency
By Marija Avramovic
State Electoral Commision (SEC) announced today that in the upcoming elections only four candidates will compete for the Office of Croatian President.
In the first round of presidential elections citizens can vote for the Croatian democratic union candidate Kolinda Grabar Kitarovic, Social Democratic Party candidate and current state president Ivo Josipovic, Milan Kujundzic from Croatian Dawn and Ivan Sinčić from NGO Human Wall.
After verifying the validity of the seven nominations received, the commission published the official list of candidates in which it has confirmed that each of the candidates actually collected 10,000 signatures.
By publishing the list of presidential candidates, the conditions are met for starting the official electoral campaign in midnight, December 9, which will last very shortly, only 18 days until the election silence, which starts on December 26th.
No later than three days after the start of the official campaign, all four candidates must disclose whether and how much of their own funds will they invest in the campaign.
Kujundzic already did that, announcing that he would spend a maximum of 50 thousand kuna (6,520 euro), solely from the wages he had earned in the hospital Dubrava.
Seven days before the election, candidates must submit to SEC a preliminary report on received donations and campaign expenses.
The NGO Human Wall opposes violent evictions and foreclosures, explained Sinovcic when he was delivering his candidacy.
Sinovcic is a longtime civic activist who participate in the elections, among other things, because he wants to draw attention to the problem of the failure to meet debts and paying back loans in the current system.
Such a small number of candidates in the elections hasn't been seen since the time of Franjo Tudjman, back in 1997, when there were only three candidates for the presidency, while in the elections after that there were between 9 and13 candidates.