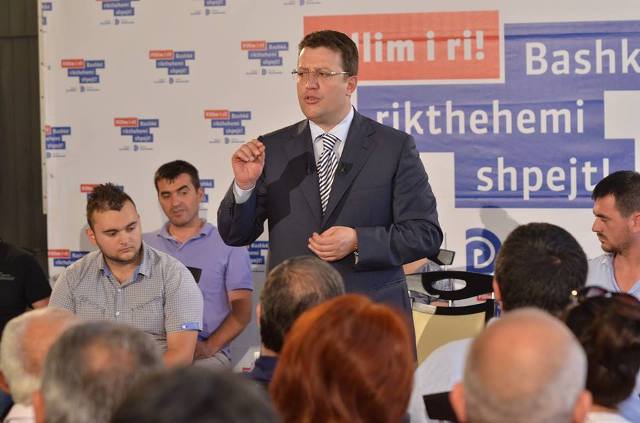 Peshkopi, July 12, 2013
The candidate for the chairman of the Democratic Party, Sokol Olldashi travelled to Diber today to hold a meeting with the party structures there. During this meeting, Olldashi accused the leader of the Socialist Party, Edi Rama for following a destructive way of doing politics and that with the new configuration in Parliament, he risks to turn this institution into a prison cell.
Olldashi said that 30 socialist MPs have previous convictions and that the coalition between Rama and Meta brought back the old Labor Party.
"Edi Rama is a political figure who every time he has been in power, he has produced corruption, abusiveness and conflict of interest. During his 8 years in opposition, he demonstrated that he was a destructive politician and with the list of MPs that he's bringing to parliament, he shows that 30 representatives of this party are criminals", said Olldashi.
During the meetings held with democrats of Burrel and Bulqize, Sokol Olldashi spoke of an opposition action which will defend the administration and the business from the progressive tax which will be imposed by Rama. As far as the restructuring of the DP is concerned, Olldashi demanded the return of the activists of the party into an institution, pointing out that while the DP has been in power, it weakened its connections with the militants. /ibna/