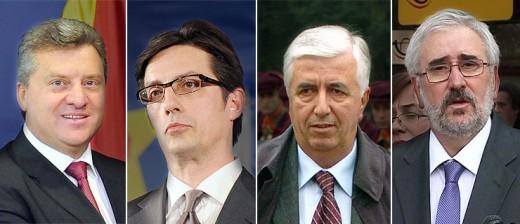 IBNA Special Report/ Presidential elections in former Yugoslav Republic of Macedonia is taking place without any public and TV debate between presidential nominees. Political analysts say that following the lack of debates in past elections, it's turning into a phenomenon. IBNA hears from Emilija Lazarevska, editor in chief of the Public Television, epxert for massive communication, Marko Trosanovski and Fuat Hoti from the State University of Tetoto
Skopje, April 3, 2014/Independent Balkan News Agency
By Naser Pajaziti
The "boycott" phenomenon of public debates between political rivals is now present from the last presidential elections, where presidential candidates also avoided public TV debates.
The four presidential nominees, George Ivanov from VMRO-DPMNE, Stevo Pendarovski from Social Democratic League of Macedonia (LSDM), Iljaz Halimi from the Albanian Democratic Party (PDSH) and Zoran Popovski from GROM, have not had any political debates so far.
This campaign is also lacking their interviews in TV networks and newspapers. IBNA too is attempting to interview all the candidates and has managed to start with one of them.
IBNA Interview: The only Albanian candidate Halimi: I will be the president of everyone
Some say that this lack of media presence shows that the campaign is more focused on rallies than direct meetings with the citizens.
***
In the 2000 and 2004 presidential elections, there were intensive debates between presidential nominees, starting from the first electoral rounds.
Political analysts say that this campaign will go without a direct confrontation between presidential nominees. "Telma" public television network demanded a few days ago such debate between presidential nominees. But, the TV debate was refused. The negative response has come from VMRO-DPMNE and its candidate, George Ivanov, who races for a second term in office.
Emilija Lazarevska, editor in chief of this TV network says that candidates ignore media and public confrontation.
She says that this refusal shows their weaknesses.
"This approach shows that they don't want to face difficult questions. They want to be in front of  their trusted journalists and TV networks and this is a propaganda of their policies, to satisfy their goals and missions", says Emilija Lazarevska for IBNA.
Even media experts are worried as a result of the lack of public confrontations by candidates.
"Parties aim to send controlled messages to voters. They don't want these messages to be part of a debate. Parties behave in this way by demonstrating their conviction that the candidate that they have proposed, is better than the others and that debate is unnecessary. But these actions are dangerous for democracy", says expert for massive communication, Marko Troshanovski.
According to him, besides the lack of debate, there's also a restricted time offered to opposition candidates, especially in pro government media.
On the other hand, citizens are more than interested to follow the presidential candidates in an open TV debate.
"Of course it's in the interest of everyone to see them in front of each other in order to have them reveal their programs and offers. This confrontation is lacking. We're tired of rallies and paid political programs on the media", says Fuat Hoti, from the Tetovo State University for IBNA.
Political parties' staffs and presidential candidates, insist that their programs and offers are being conveyed to the citizens. They are strongly launching this propaganda in massive rallies and daily direct meetings with small groups of citizens. /ibna/