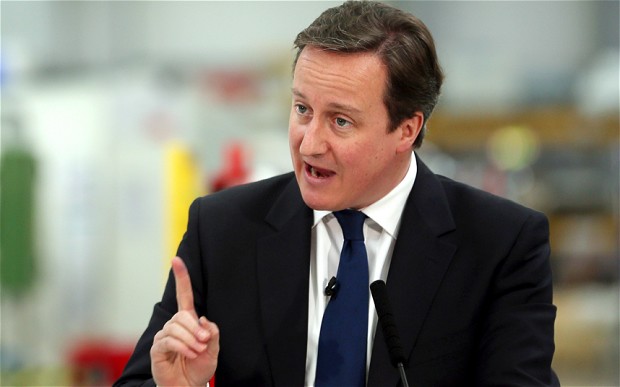 By Milos Mitrovic – Belgrade
UK Prime Minister David Cameron congratulated Aleksandar Vucic today on his appointment as Serbian prime minister and expressed the hope that Serbia will join European Union in decrying the "illegal actions" of Russia, regarding Ukraine.
The serbian government stated in the press release that Cameron in his letter to Vucic has also underlined his hope that Serbia would soon become an EU member. Vucic has been appointed for prime minister on April 27, following the victory in March elections.
"I greet your willingness for the development of the regional relations to be continued as well as your plans to visit Sarajevo soon; it is also important for Serbia to harmonize itself with EU foreign policy", Cameron was quoted as saying by FoNet news agency.  Cameron has emphasized that the actions of the Russian Federation in Ukraine represent a challenge to the international Law and a threat for European stability.
The British prime minister added that he hopes Serbia would "join the European Union soon in its decry of Russian illegal actions", FoNet reported.
"You have been appointed in the essential moment of Serbian path towards Europe. The accession talks require lengthy and challenging reform process, but are also the opportunity for Serbia, with your leadership", Cameron stated in his letter to Vucic.
He stressed that the economic reforms as well as the promoting the rule of law, fight against corruption, creating strong and independent institutions, commitment to democratic values and normalization of the relations with Kosovo are important for both Serbia and EU.  Cameron noted he had recognized Vucic's commitment to focus on all this issues and to continue the dialogue with Kosovo which would, in his opinion, enhance the stability and prosperity for Serbian people. Serbian 2015 OSCE presidency is going to put international attention on Belgrade, Cameron added.
"I am aware that EU has to pass the reforms too, and I wish to assure you again that United Kingdom will continue to be committed to the future of Serbia as an EU member, including our permanent support in order this goal to be achieved", the UK prime minister concluded in his letter.